November 26, 2019
A Mizzou Engineering professor says workshops he has conducted in India have led to a number of collaborative research projects with other scientists. Mechanical and Aerospace Engineering Professor Sanjeev Khanna, Director of the Midwest Industrial Assessment Center, recently presented a one-week long national workshop in Allahabad, India on "Materials Behavior and Characterization under Dynamic Loading Conditions." The workshop was hosted by the Motilal Nehru National Institute of Technology (MNNIT) and was attended by 41 faculty and postdocs from engineering institutions across India and broadcast live to universities under the Department of Higher Education, Ministry of Human Resource Development under their Global Initiative of Academic Networks (GIAN) in higher education. Khanna says the GIAN program enables the interaction of students and faculty with the best academic and industry experts from all over the world, who then share their experiences and expertise to augment the country's existing academic resources, accelerate the pace of quality reform, and elevate India's scientific and technological capacity to global excellence.
Khanna says his presentations covered three topics: dynamic fracture in composite materials, the mechanical behavior of transparent laminated composite materials under blast loading, and the mechanical response of reinforced aluminum foams under high-strain-rate loading at room temperature and at high temperatures. Khanna says "dynamic" means there is some type of loading occurring over a very short period of time, like a blast or a sonic boom. High-strain-rate loading, he says, is like a projectile hitting something.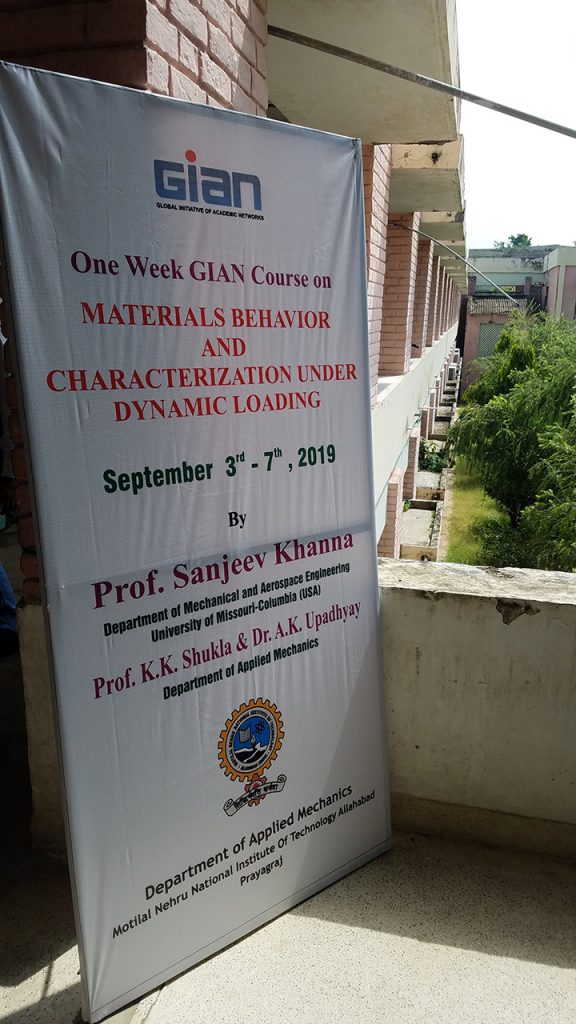 "All three presentations are based on research I've been doing at MU, but the first one, dynamic fracturing, was my PhD topic, and then I continued to work on it and have done so here," Khanna said. "The second topic I covered – transparent laminate composites under blast loading is a continuation of my work into dynamic fracturing."
He says his research in metal foams—aluminum foams in particular, began about five years ago and is in collaboration with the Advanced Materials Processing Research Institute (AMPRI) in Bhopal, India. Khanna says that work began when he met the director of AMPRI at an "International Conference on Multifunctional Materials and Structures" cosponsored by Mizzou Engineering at NIT Allahabad, India, about five years ago. The director told Khanna his researchers had knowledge in materials science but not the equipment to test that knowledge and develop design data. Since that collaboration started, Khanna says he has had two PhD students and a master's student at Mizzou conducting research into nanoparticles reinforced metal foams—lightweight materials consisting of a solid metal with gas-filled pores comprising a large portion of the volume.
The workshop at MNNIT this fall led to an invitation to Khanna to potentially conduct another GIAN workshop next year at the National Institute of Technology in Jamshedpur, one of the industrial cities in India known as "Steel City."
"These conferences give me the opportunity to meet with so many other new and upcoming faculty, and I've had some follow-up from three assistant professors in India who want to collaborate with us," Khanna says. "What really interests me is the collaboration aspect. At MNNIT I had to talk for four to five hours for five days, which is like teaching three-quarters of a semester in one week, but it's all worth it. It gives our university and our engineering college exposure they otherwise would not get."