November 05, 2019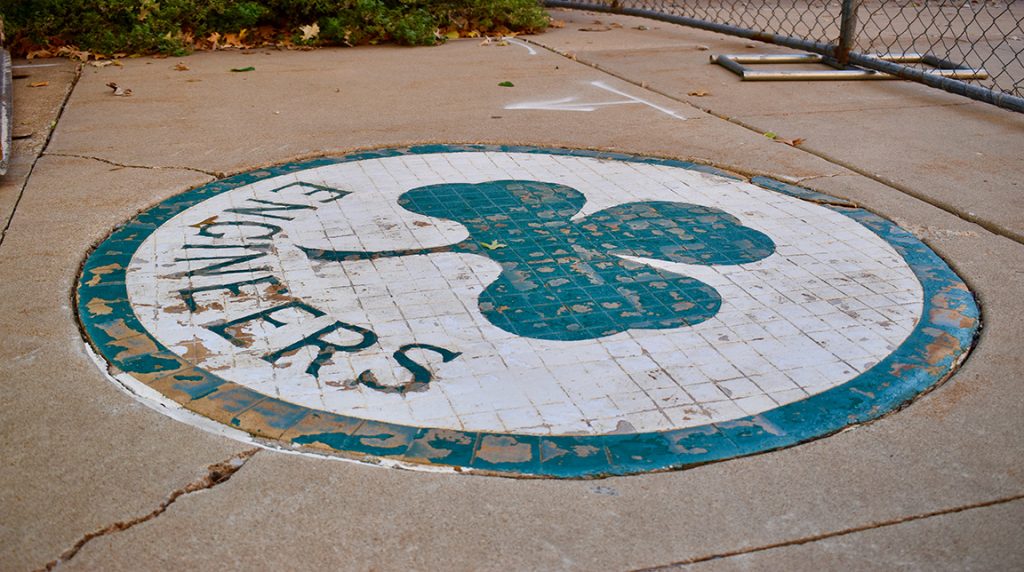 For the past few weeks, faculty, staff and alumni who walk by the Shamrock Plaza on the north side of Lafferre Hall have been asking what happened to the green and white shamrock medallion at the heart of the plaza. On October 19, the shamrock was removed and the concrete around it was demolished as part of the first phase of a reconstruction project. Steve Borgelt, a Chancellor's Professor in the Department of Biomedical, Biological and Chemical Engineering, says he decided about three years ago that the Shamrock Plaza and Medallion, which was constructed in 1921, needed to be renovated to match the well-maintained appearance of the historic buildings that surround Francis Quadrangle.
"St. Pat's Board had painted the shamrock for years but it hadn't been painted for some time, and a few years ago some students suggested we paint it again," Borgelt said. "I suggested we consider refurbishing it instead because it's between Switzler Hall, the oldest building on campus, and Lafferre Hall, which still has that 'classic' exterior facing the Quadrangle."
Borgelt, who received his BS in agricultural engineering in 1979 and his master's in 1982 from Mizzou, says he's been involved with Engineering Week since his undergrad days. During MU's Giving Day in 2018 and 2019, Borgelt, a faculty advisor for the St. Pat's Board, made lead gifts for the renovation project and offered to match donations from others. Donations from Borgelt and about 50 other donors raised more than $35,000, which he says is enough to complete Phase 1. Fundraising continues for Phase 2, which will refurbish the war/veteran's memorial, and Phase 3 would extend the pavers on either side of the medallion to cover the rest of the plaza.
St. Patrick was an Engineer
Borgelt says that MU Engineers 'discovered' that St. Patrick was an engineer as an excuse to cut classes.
"In 1903, engineering students were taking classes six days a week with very few holidays," he says. "One balmy spring day in mid-March, students discovered a sign saying, 'St. Patrick was an Engineer – class cut today.' They all assembled on the Quad to celebrate, and President Jesse came out and told the gentlemen to return to class and the rowdies to go downtown. The Engineers all went downtown."
Borgelt says students cut classes the next year, and in 1905 St. Patrick appeared and a grand 'Kow-Tow' was held. By 1906, when the knighting ceremony was introduced, MU officials had changed their minds and supported the celebration.
Today, the Engineers Week celebration, which dates to that student walkout in 1903, includes the Dome Lighting Ceremony, Engineering Lab Exhibits, St. Patrick's Ball, Engineering Knighting Ceremony and many more traditions and activities. The Knighting Ceremony is now held in the plaza between Lafferre Hall and Switzler Hall. Borgelt says the Knighting Ceremony is the only time St. Patrick appears on campus to knight Engineering seniors and honorary knights—a list of dignitaries that includes Harry Truman, Buzz Aldrin, Sen. John Danforth, President Mun Choi and many others. St. Pat also shows up at the St. Patrick's Ball to tell the dean who has been elected king and queen.
Preserving History for Future Generations
Borgelt says the new shamrock, at six feet in diameter, will be larger than the original five-foot installation. He says the plan is to create the new shamrock using colored concrete pavers cut with an abrasive water jet and then seal it to protect it from pedestrian traffic and weather. Plans also include refurbishing the brass plaque in the pavers, installing two four-foot tribute benches, and planting new gardens next to the benches.
"I appreciate the things that Dean Loboa and the College are doing to move us into the future, but also appreciate working with St. Pat's Board and others as we remember our history and traditions," Borgelt says. "It's important to remember, preserve and honor our past—the experiences that make Mizzou Engineering unique."