May 07, 2019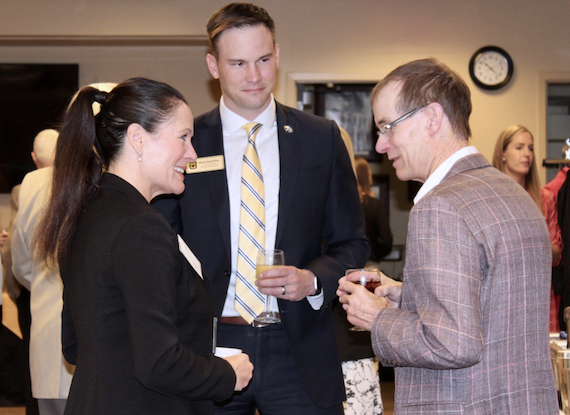 The College of Engineering receives tremendous support from alumni and friends, and the College honored those who have made substantial financial commitments to Mizzou Engineering at its annual Shamrock Society brunch on April 27.
The Shamrock Society is an organization that recognizes members for shaping the College's present and future through annual or sustaining financial support. This year's member event featured a member recognition ceremony led by MU Engineering Director of Advancement Ann Baker and remarks from Dean Elizabeth Loboa, Associate Dean of Research Sheila Grant and senior Mechanical and Aerospace Engineering student Molly Sandbothe.
Dean Loboa spoke about how members' support changes lives multitudes of students.
"Think of the impact we have on the first-generation college student who is living away from home for the first time, or on the international student who will use her degree to affect change for the residents of her home country," Loboa said.
"Think of the engineer on the west coast who is able to get an advanced degree in industrial or biological engineering through our new online programs while continuing to work full-time, or of the undergraduate student who is able to afford a Mizzou Engineering education because of our scholarship offerings. All of this is possible through the wonderful gifts given to the College of Engineering by you, our generous donors."
Sandbothe, meanwhile, elaborated on exactly how the generous support of Shamrock Society members impacted her specific Mizzou Engineering journey. She served as an Engineering Ambassador, St. Pat's Board co-president and vice president of communications for Mizzou Engineering Student Council, among other accolades.
"On behalf of the Mizzou Engineering student body, thank you for your continued support of the College," she said. "You set a standard for students like me to follow as we graduate and become engineering leaders!"
Grant discussed the way in which financial support helps Mizzou Engineering stay at the forefront of research that directly benefits the state of Missouri, the nation and the world.
"When we see complex problems, we need to work together to solve those problems. Collaboration is key to what we want to achieve in our College," Grant explained. "Donor engagement allows us to be the College that we want to be and the College we are becoming."