February 26, 2020
To finish out Women in Engineering Week and celebrate Black History Month, the College of Engineering held a cultural immersion lunch to highlight black women engineers.
The lunch, held Feb. 21, was more interactive than past lunches and was one of the most well attended the College has had in recent years.
About 30 students and faculty sat together eating take-out from Ms Kim's Fish & Chicken Shack and discussing the "Food for Thought" prompts which addressed disparities and inequalities faced by female engineers of color.
Hilary Mueller, the director of diversity and outreach initiatives for the College, said the event created an opportunity to discuss the intersectionality of black women engineers, which is often not talked about on its own.
"We're really trying to push people to think about things outside of their own perspective or own world," she said. "It's important to have a space to talk about black women's accomplishments in engineering, to talk about the accomplishments of our students and to also create a space where they feel appreciated, celebrated and welcomed."
Alexis Leonard, a senior studying biomedical engineering, said these lunches are very important to bring awareness to disparities in engineering.
"I feel like a lot of people are not aware of those statistics that go into women who are in engineering, specifically black women who are in engineering, and so I feel like it's important to bring that to light so that more people can make a difference," she said.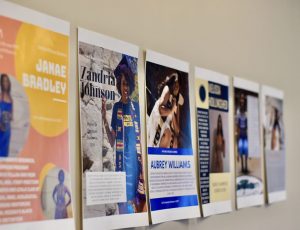 Hosted in collaboration with MU's chapter of the National Society of Black Engineers, the event incorporated student ideas like making posters honoring black women alumni from the College.
The posters lined one of the walls while inspirational quotes from black female trailblazers like Michelle Obama, Harriet Tubman and Maya Angelou covered another.
Leonard said seeing the posters and quotes was empowering.
"It's like refreshing because I know some of these people up there personally, so I feel like it's a little motivation," she said. "And then I also like the quotes, and I like that while we're eating, we can sit here and discuss."
The lunch was an overall success bringing the community together to celebrate black women in engineering with good food and good company.