February 13, 2020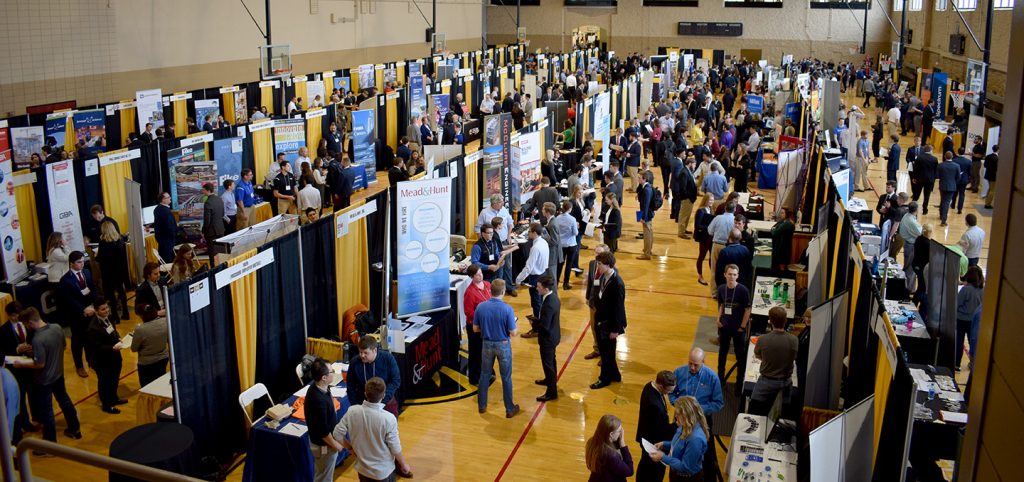 Hundreds of Mizzou Engineering students had an opportunity to meet with a variety of employers to secure internships, co-ops and full-time jobs at the College's Spring 2020 Career Fair at the MizzouRec Center Feb. 11.  Companies that hire Mizzou Engineering grads know they will find some of the brightest, most intelligent and articulate students in engineering, information technology and computer science at the Mizzou Engineering Career Fair, which is one reason 185 employers registered for the spring career fair—a 22% increase over last spring's event. The career fair is organized by the College's Leadership, Engagement and Career Development Academy, which prepares students for the career fair by holding mock interviews, résumé reviews and an employer-student networking social to help Mizzou Engineering students make a great first impression when meeting with employers. Representatives of companies attending this spring's career fair said Mizzou students always make a great impression, which is why the number of companies registering for the career fair continues to grow.
Investing in Success
Corporate investment in the College's career fairs offers powerful branding opportunities for companies while helping the College educate more engineering leaders. Melton Machine & Control Company & Computech is a platinum investor of the Academy and typically recruits students majoring in electrical and mechanical engineering.
"Probably every semester, we have at least one Mizzou student as a co-op," said Whitney Pogrelis, a senior human resources business partner at Melton. "We only hire co-ops and not interns, so that is kind of unique. We think co-oping is a great benefit to us as the employer and to the students. They get some real hands-on projects to work on and they get a good knowledge base—they are not here to fetch coffee."
Pogrelis says Melton is employee owned, so co-op students get a chance to see how a company of employee-owners functions. She says a lot of their employees, many of whom are Mizzou grads, started at Melton right out of college and stayed with the company until retirement.
Jen Larson is a university relations recruiter for Garmin International, another platinum investor of the Academy. Garmin, based in Olathe, Kansas, recruits Mizzou Engineering students as interns, and then offers the top students a chance to become a Garmin ambassador and share their experiences with their peers.
"We partner with schools and help find the best talent to come work at Garmin, so I attend career fairs, we do on campus interviews, we do information sessions, we go into classrooms and do presentations, and I often take engineers with me," she said. "Obviously we want to hire as many Tigers as we possibly can, so we've had a really good relationship."
Essex Industries, a family owned company based in St. Louis and a gold investor, primarily recruits students majoring in mechanical and aerospace engineering and has hired a number of electrical engineers. Russ Jacobsmeyer, vice president of engineering at Essex, says mechanical engineering students at Mizzou stand out because they are familiar with SolidWorks, a solid modeling computer-aided design and computer-aided engineering program used at Essex.
"Another difference for me is how professionally the Mizzou students present themselves," he said. "The ability to communicate, to sell themselves, to show they are well-rounded, their resume looks good, they look you in the eye, shake your hand…all of those small things show me the person is really interested and they have a sense of what it means to be a professional."
Jim Ries has his feet planted in both industry and academia; he is an instructor of computer science in the College of Engineering and continues to teach at the Veterans United Home Loans Academy. The academy is a summer program for new college graduates and boot camp participants that prepares them to be full-time software developers at the end of the program. Ries has been in industry for most of his career and started teaching computer science while still working at Veterans United; he now works full-time at MU and goes to Veterans United about four hours each week.
"I taught the first VU Academy last summer, and we had a mix of former engineering students—grads and a few folks from boot camps, but the MU students were the technical leaders," he said. "There really is no substitute for the technical education you can get here."
Ries said Veterans United is a gold investor of the Leadership Academy because the growth at the company has been explosive, and they are constantly looking for computer science and information technology majors. His daughter is majoring in industrial engineering at Mizzou and is an intern at Veterans United.
FAST Enterprises also had a booth at the Spring 2020 Career Fair, and recruiter Gina Akselrod said it was the company's third semester attending the College's career fairs.
"The kind of candidates you create here at Mizzou is what got us interested and why we keep coming back," she said. FAST is a software development and consulting company based in Denver, and Akselrod says candidates need to be open to relocation.
"That's one of the first questions we ask, but we're also interested in the academics and the skills they bring," she said. "We need people who are comfortable with object-oriented programming and also the consulting side." Akselrod says the company tends to recruit computer science and math majors. A bronze investor of the Leadership Academy, FAST hired its first intern from Mizzou for this summer, and three recent graduates now work full-time at the company.
Elanco, another bronze investor, is an animal health pharmaceutical company. Senior process engineer Ronald Ly says last year was the first year the company recruited at Mizzou.
"Mizzou students are excellent communicators," he said. "They excel at this ability to communicate their ideas and what they have done clearly," he said.
Ly says Elanco looks for students who are familiar with companion animals (pets) and farming with backgrounds in mechanical, chemical, electrical and biomedical engineering.
The fact that a growing number of companies was on hand at the career fair to greet students indicates Mizzou Engineering students are prized by employers. In fact, the College's career outcome rate for 2019 is 93%.