February 13, 2020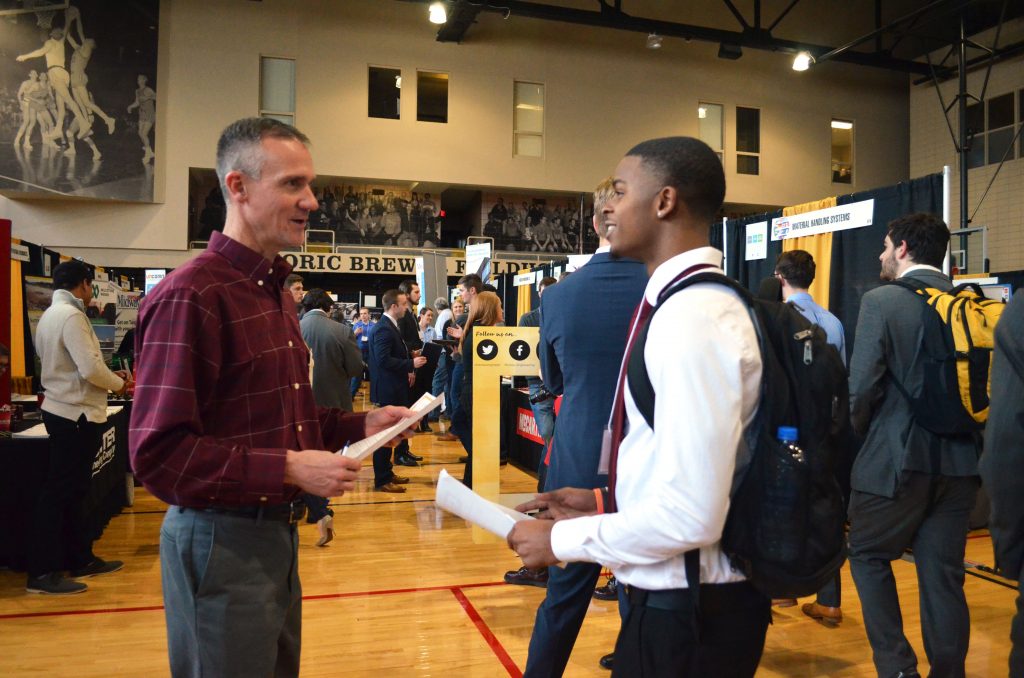 From freshmen to seniors, hundreds of students talked with recruiters from 185 companies at the College of Engineering's annual spring career fair Feb. 11.
Some were looking for internships while others were seeking full-time employment, but with companies from every sector of industry, students had plenty of opportunities to hand out their résumés and have one-on-one interactions with recruiters.
Having big names like Garmin, Melton Machine & Control Company and Computech allow the students to network and land valuable career experience with industry leading companies.
For Senior Maria Patino-Carranza, this was her fifth career fair, and she came ready to secure an internship for this summer.
Patino-Carranza is a biomedical engineering major, and she spent the previous summer interning at Katalyst Surgical, which she landed by attending the career fair.
She encourages everyone to come to the career fair no matter what year or what they are looking for.
"You should come just to practice talking to professionals because the more you do it, the less nervous you'll be, and then the better outcome you'll have," she said. "Also, if you're looking for an internship, how else are you going to get one?"
For a successful career fair experience, it's all in the preparation, according to Patino-Carranza.
She has a spreadsheet with all the companies she's looking at for internships, where she organized which internships she'd applied for and which recruiters she'd already reached out to.
"Now we can talk more about my resume and things like that," she said. "You just have to be the most personal you can be without being pushy."
The career fair is more than learning about internship and job opportunities or talking with some of the nation's top engineering firms. It's also about learning how to market yourself to employers, a lesson Patino-Carranza is glad she's learned.
"It's just good exposure," she said. "It just trains you how to talk to people and how to market yourself."
That's also what freshman Christian Lewis was focusing on at the fair: how to talk with recruiters.
"You want it to prepare you to have good communication skills with people who you feel are intimidating," he said.
This was Lewis's second career fair, and he came in search of a summer internship where he could work in the field with a construction company.
Lewis is studying civil engineering and wants to get his feet wet in industry to figure out exactly what he wants to do.
"I want hands-on experience, an internship that would allow me to fully understand what the job is doing and something that will make me sure that I want to keeping doing this," he said.
Though he's only a freshman, the career fair is a valuable experience to learn about what recruiters are looking for in candidates and establish those initial connections.
Lewis said coming back the second time was easier and helped remind him what he can do to make himself standout.
"It's kind of a refresher on what they're actually looking for as I get older and how I should handle applying for internships and what little things I can do that will set me apart from the crowd," he said.