January 16, 2020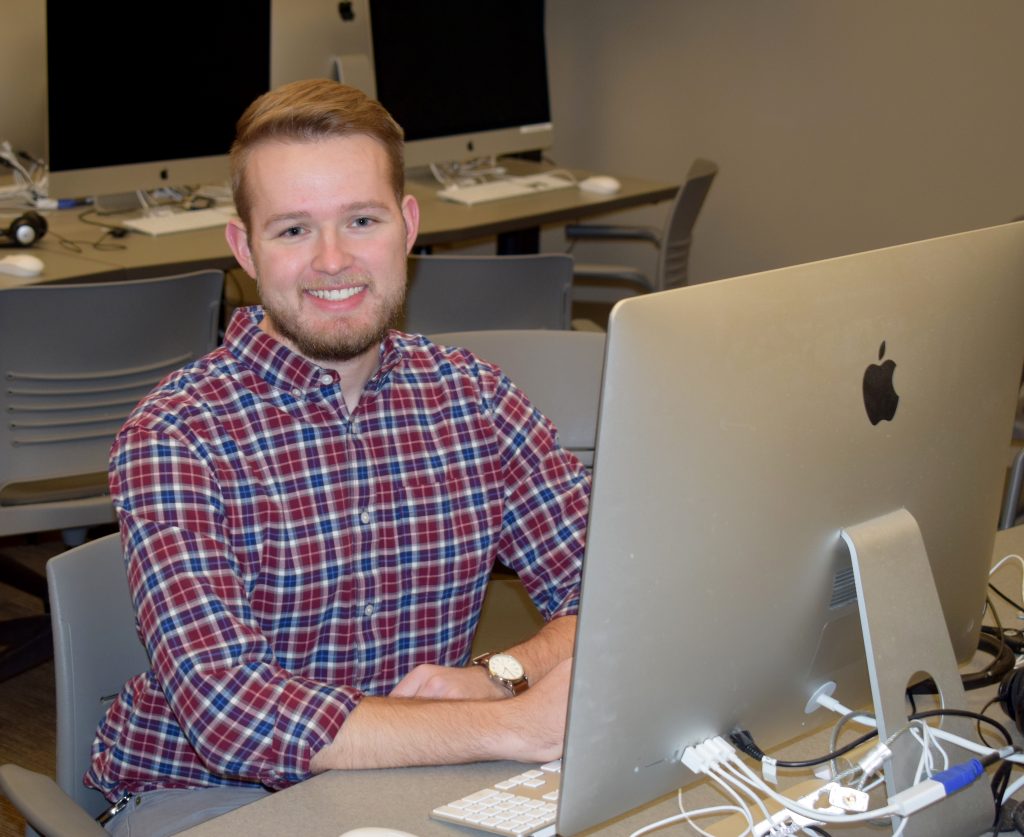 One of the MU Engineering students who crossed the stage during commencement ceremonies at the Hearnes Center Dec. 13 started work as a full-time employee at Shelter Insurance in Columbia less than a month later. M. Andrew Kammerich earned dual degrees in information technology (IT) and digital storytelling from MU and says the combination is a perfect fit for his new role as a user experience (UX) designer for Shelter Insurance.
"I'm interested in more than how a website looks, but how a user should experience it—what things should look like as well as how they should function and why," he said. "How you get to that point is by doing research, using data analytics and data science to come to data-driven smart decisions which will then be distributed to my team. I work directly with developers, and since I have that technical background I am able to translate these findings and this data into what a website should look like and how we get there."
A Curious Mind
Kammerich, like many college students, originally started down a different path, majoring in business because he wasn't sure what he wanted to do and business seemed like a good option. But Kammerich said he has always been interested in computers and technology. As a child, he says he liked to take things apart to see how they worked, although he could never put them back together, much to his parents' chagrin. In high school, he built a computer for video editing and to play video games. Then, a friend who had gone to high school with Kammerich showed him some classwork from his IT coursework at Mizzou, and Kammerich says it seemed much more interesting than his business classes. He took some IT classes to get a feel for the program and says he was hooked.
Taking classes with Associate Teaching Professor Dale Musser in the Department of Electrical Engineering and Computer Science solidified his choice.
"He had worked for large companies and small companies, so he had the experience of what both environments were like," Kammerich said. "Rather than just learning how to develop apps, Prof. Musser taught us how to work as a team in software development. Plus, he is just very personable and you can tell he cares and loves what he is doing."
Testing the Waters
The MU College of Engineering presents two career fairs each academic year – one in the fall and one in the spring. A career fair is often the first opportunity students have to meet potential employers. Kammerich struck it rich three times at the career fair, landing an internship at IBM, another one at the DISH Network in Denver, CO and finally an internship at Honeywell in Kansas City, MO, where he did work with the Department of Energy at its Kansas City National Security campus. When he returned from his internship in Kansas City, Kammerich went to work part-time for Shelter Insurance while he completed his studies at Mizzou, which led to the full-time job he began Jan. 6.
"The internships and part-time jobs help our IT students in many ways–financially, academically and professionally," said Prof. Dong Xu of the Department of Electrical Engineering and Computer Science and Director of Information Technology. "Doing real-world IT work motivates students to learn, it gives them the context of IT knowledge and teaches them how to do teamwork. That's why we highly encourage them to do these." Xu says due to the number of online IT courses being offered, the department is considering extending internships to coops, allowing a student to work at a company for 6-12 months while taking online courses.
Kammerich is contemplating returning to school at some point, and notes that Shelter Insurance will reimburse his costs if he enrolls in graduate school, either to pursue and MBA or a master's degree in data science, after spending one year with the company. To succeed in college, Kammerich said it is important to make friends in your classes and in your program.
"Having a group to lean on and to work with for projects, classes and life in general is invaluable," he said. "Also accept that you probably won't end up where you think you will."