May 11, 2020
A Mizzou Engineering faculty member took first place in a 48-hour virtual film fest earlier this month.
Christopher "Chip" Gubera, an assistant professor of practice in the Information Technology program, beat out 19 finalists at the Holed Up Film Competition. Stephens College hosted the virtual festival, which drew 36 submissions from across the country. Participants were challenged to create a short suspenseful mockumentary starring a butter knife. As per the theme, filmmakers also weren't allowed to film outside of one interior location.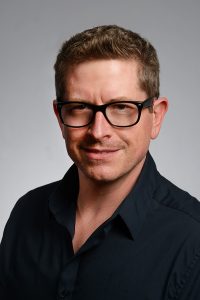 Gubera's film, "I Had Buttered My Own Teeth," was a spoof on popular shows that re-enact interviews with people who say they've encountered the paranormal.
While the film fest was mostly a nice distraction from stay-at-home orders, participating in these types of events helps IT faculty members keep their skills up to date.
"All of us in IT try to keep our foot in professional work, although this was more for fun," Gubera said. "But I definitely used some of the things I teach in class to make the piece: Motion graphics in the title—I used particle effects to give it a ghostly look; I chose a color scheme for branding, which is something I teach; and I used color theory, design theory and visual effects for storytelling elements."
Gubera has directed and produced seven feature films and more than 40 short films, 15 of which have been accepted to film festivals. Most recently, he teamed up with Boster Castle Studios, a mid-Missouri production company, to produce two feature-length children's films.
The media technology emphasis within Mizzou's IT program goes beyond filmmaking. Students learn techniques found in graphic and web design, animation and motion graphics, and visual and audio technology—all of which are crucial when developing websites, apps and other forms of digital media.
Local productions, however, can give students industry experience, and Gubera hopes to provide more of these type of opportunities for students pursuing media technology careers. He's already in talks with Desiree Moore, an assistant teaching professor in the School of Visual Design, about working on an art film together. Moore also collaborated with him in the production of his recent film fest submission.
"There are a lot of people in Columbia making short and feature films and who are doing really interesting things," Gubera said. "I'll be actively looking at ways to collaborate in the future."