January 07, 2020
Forty students from Columbia's high schools, along with family members and other invited guests, met at the MU Agricultural Engineering Building Saturday for an Army Ants breakfast and game-reveal event. The gathering was the official kickoff to "Build Season" for the Army Ants robotics team, which is sponsored by the College of Engineering. The Army Ants participate in the FIRST (For Inspiration and Recognition of Science and Technology) Robotics Challenge among some 4,000 teams worldwide. There are approximately 90 teams in Missouri, but the Army Ants are the only team in Boone County.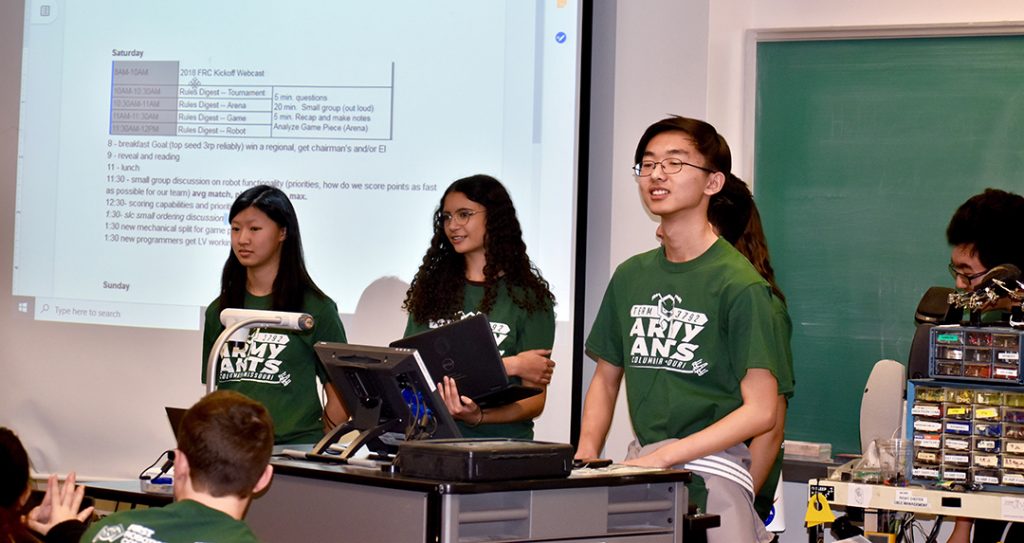 The Challenge
Each year, high school robotics teams build a 100-lb robot to compete in a new game that is announced in early January. This year's game, announced Saturday, is called "Infinite Recharge," and has a Star Wars theme. Professor Kevin Gillis, the interim chair of the Department of Biomedical, Biological and Chemical Engineering, started out as a volunteer mentor with the Army Ants in 2011, served as the team's chief mentor from 2013-18 and now serves as their outreach mentor.
"The game elements this year include collecting and placing "power cell" balls, climbing onto and balancing a "shield generator," and rotating a multi-colored "control panel" disk," Gillis said. "The teams have two months to design, build and program a robot for competitions in March and April."
Gillis says the Army Ants will meet six days a week for roughly 200 hours this month and next month and will then compete in St. Louis March 12-14 and in Minneapolis, Minnesota March 26-28. If the Army Ants qualify, they will compete in the international championship in Houston, Texas in April.