December 17, 2020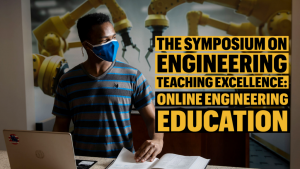 The College of Engineering faculty came together recently for the 2nd annual Symposium on Engineering Teaching Excellence. This virtual event allowed faculty to share best practices for teaching online and to learn from others' experiences.
This year's keynote speaker was award-winning Professor Johannes Strobel in the School of Information Science & Learning Technologies at MU. He spoke on different models of what online and remote teaching might look like. He also provided examples of best practices and resources available to engineering teaching professionals.
Strobel listed several benefits of online learning, including the number of questions asked and answers given.
"We know a lot of research on international students and English as a Second Language (ESL) students that they are not necessarily comfortable speaking in class, but they are actually very comfortable speaking in a discussion board because they can take time," Strobel said. "They are not feeling the stress of articulating questions and answers" using a discussion board.
Additional benefits include improved quality of questions and answers, flexibility for teachers and students, and students gaining access to information.
After his speech, Strobel went into more detail on select topics in the question-and-answer session, including improving online student engagement.
Faculty Presentations
Participating Mizzou Engineering faculty presented academic theses on the theme "Online Teaching Ideas for Inspiring Students in Your Classroom". These theses, though, could only be three minutes long and shown on one presentation slide, as inspired by the Three-Minute Thesis (3MT) challenge. A total of ten faculty from across different departments presented their ideas.
Information Technology Assistant Teaching Professor Fang Wang discussed how the COVID pandemic has accelerated the transformation of education to be more digital.
"Our new generation is growing up with technology," Wang said. "Innovative and immersive technology will make a great impact on learning."
Wang also found that in-person, hands-on learning is still important in the learning process. That is why for the fall 2020 semester, Wang's students used a virtual reality powered hands-on lab setting prior to coming into the physical lab. This created a hybrid learning experience for students.
"When we brought them to the physical lab, we found they were familiar with the lab due to them already being in the virtual lab environment," Wang said.
Additional presenters were Ronny Bazan Antequera from Information Technology; Prasad Calyam, and Dong Xu from Electrical Engineering and Computer Science; Kiruba Krishnaswamy, Heather Hunt and Joontaek Park from Biomedical, Biological and Chemical Engineering; Sarah Orton from Civil and Environmental Engineering; Jung Kim from Industrial and Manufacturing Systems Engineering; and Craig Kluever from Mechanical and Aerospace Engineering.
Online Learning from a Student Perspective
Three engineering students from various programs gave their perspectives and insights regarding online teaching.
Chloe Jones, Lauren Hyde and Drake Sivils provided insights into how to engage students better in a virtual environment.
"Having group projects is helpful," Jones said. "You have interaction with classmates."
Reaching all students is a concern, especially those who are not active during class. One suggestion brought up is to have students engage is through mandatory office hours. These were described as virtual meetings with professors at a scheduled time outside of normal office hours. And this meeting would have points attached, much like a class quiz.
Insights from Kemper Award Winners
Two of Mizzou Engineering's Kemper Award Fellows provided teaching insights to the other attendees they use for both online and in-person settings.
Kemper Award recipients Craig Kluever and Paul Chan led the discussion which covered a variety of teaching-related topics. Areas covered included student interaction, group projects and assignments, and earning students' respect.