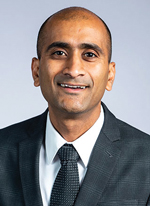 Praveen Edara is Interim Dean and Chair of Civil and Environmental Engineering in the College of Engineering at the University of Missouri.
Edara joined Mizzou Engineering in 2007 and has served as James C. Dowell Professor, Director of Graduate Studies and Faculty Fellow for Research, Industrial Engagement and Entrepreneurship. He has received numerous awards and honors, including being named an MU Top Faculty Achiever in 2016.
Edara is a registered Professional Engineer in Missouri and a certified professional traffic operations engineer. He conducts research in the areas of traffic operations, intelligent transportation systems, geometric design and traffic safety. His research has been supported by the National Science Foundation, the U.S. Department of Transportation, state departments of transportation and local governments. His current research focuses on generating artificial realistic crash datasets, examining safety through naturalistic driving study data, assessing disaster resilience, investigating alternative intersection design and developing virtual and augmented reality modules to train the transportation workforce. He and collaborators were recognized in 2021 and 2022 with High Value Research Project awards presented by the American Association of State Highway Transportation Officials (AASHTO).
Edara is an associate editor for the Journal of Transportation Engineering, American Society of Civil Engineers, and is a member of the Traffic Control Devices Committee under the National Academies' Transportation and Research Board.
Prior to joining MU, he worked as a research scientist for the Virginia Transportation Research Council. He earned his Master of Science and Ph.D. from Virginia Polytechnic Institute and State University.
Education
PhD from Virginia Polytechnic Institute and State University
MS from Virginia Polytechnic Institute and State University
BTech from the Indian Institute of Technology-Madras
Research Focus
Intelligent transportation systems
Traffic safety and countermeasures
Alternative geometric designs