July 31, 2020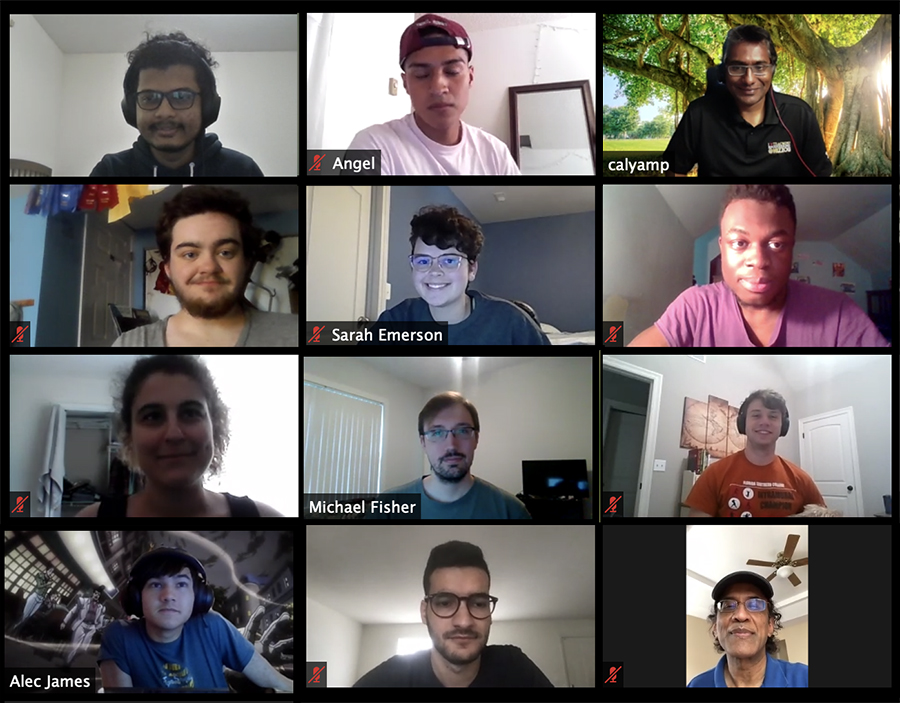 They analyzed data from medical records. Studied the impact of virtual learning environments. And came up with ways to better detect fake videos. In the end, participants of this year's Research Experiences for Undergraduates (REU) program at Mizzou Engineering gained a deeper appreciation of research and how it applies to everyday life.
"This REU has definitely opened up a view into the research world that I didn't know existed," said Angel Flores, a student at the University of Puget Sound. "I was not thinking about graduate school before, but I am thinking about it more now."
Funded by the National Science Foundation, the REU program introduces younger college students to research. And it gives them opportunities to use the scientific method to solve real-world problems. In its 13th year, the REU program at Mizzou focuses on consumer networking technologies.
Students are selected from teaching-focused institutions in Missouri that do not have research experiences available to students. They also come from other institutions around the country. The selection process is highly competitive with diversity being an important consideration.
Participants spent 10 weeks working virtually with graduate student and faculty mentors on specific projects.
On Wednesday, student teams presented their findings in front of faculty and industry professionals. They are now finalizing papers they plan to submit to various academic journals.
A Rigorous Learning Experience
One of the goals of REU is to get students interested in pursuing graduate-level studies. While many said the REU cemented that decision for them, they all agreed that it provided a rigorous research and learning experience.
"This was really my first experience doing practical research," said Maxwell Chappell, a student at Truman State University. "In school, a lot of what you do is just solve typical class problems. Here, you have a problem, and you have to find a solution. But there is no existing solution, so you have to figure it out."
Michael Fisher, a student at Columbia College, said he liked the fact that research is an open-ended process.
"The ability to ask a question and then say, 'Why is that even the question?' was something I deeply enjoyed," he said. "The journey of getting to the point where you ask, 'If this is the right question, is this the right answer?' helped cement my own personal views of research going forward. I had thought about graduate school before, but this solidified my decision."
Participants also learned that the discovery process is just as important as finding an answer.
"You're just going with the flow of things and you discover something new, so you follow it because you never know what you'll find," said Sarah Emerson of Samford University. "Something I took away from the program is that even if it's not what you expect, you might get results worth following."
Making Significant Breakthroughs
REU students' findings can lead to a host of new research projects, said Prasad Calyam, director of the REU program and an associate professor of electrical engineering and computer science.
"We see this every year," Calyam said. "Each project pushes the boundaries of the imagination for our graduate students. It opens up new problems for us to solve. The REU participants might not realize it, but they are all making very significant breakthroughs."
This year's projects included the following:
Predicting Fall Risks
Sarah Emerson from Samford University and Maxwell Chappell from Truman State University worked with EECS Professor Marjorie Skubic and her health monitoring sensors at TigerPlace, an independent living community for senior citizens. The team came up with a machine learning model that uses specific keywords from clinical notes to predict fall risks in patients.
The project introduced both students to another side of health care.
"This was a very interesting project for me because it was a way of working in healthcare but also being detached from it," Chappell said.
For Emerson, whose mom works in pediatrics, it demonstrated the close collaborations happening between computer science and the medical profession.
Detecting Fake Videos
John Jack Lewis of Florida Southern College and Helen Chen of the University of Maryland, College Park studied "deep fake" videos. They worked with Calyam, EECS Professor Kannappan Palaniappan, as well as industry professionals from IQT labs.
The team analyzed the way videos are manipulated and came up with new ways to detect whether a video is fake. Techniques included comparisons of facial features such as the position of the mouth when pronouncing specific letters.
Counting Waterfowl
Alec James of the University of California, Berkley, and Angel Herrera Flores of the University of Puget Sound advanced the research of a previous REU project, working with EECS Professor Yi Shang. Last year, the group plotted a path for a drone to detect and count waterfowl to provide information to conservationists.
"Last year, they were monitoring waterfowl in wetlands and came up with a pathfinder algorithm for one drone," James said. "We expanded it to any number of drones to see if we could get significantly better results."
The new approach showed as much as a 20% increase in the ability to count small, closely packed objects.
Detecting Drone Attacks
Alex Riddle of Mizzou and Robert Ignatowicz from Stony Brook University came up with a way to counter cyber attacks within edge computing. Edge computing allows users to retrieve and store information closer to their location. The team came up with a way to secure drones collecting information at the edge and determine whether information on a drone has been compromised. They worked with Calyam and Palaniappan.
Securing Virtual Reality Classrooms
Michael Fisher of Columbia College and David Falana of Rutgers University studied virtual learning environments and combatting a phenomenon known as cyber sickness. They worked with Calyam on the project.
"With social virtual reality programs, one of the issues is if you use them over time, people have a tendency to get physically ill," Fisher said. "A lot of these issues can be attributed to quality and security. We looked at how we can handle cyber sickness quickly to protect the user's health, especially for students who are at risk because of special needs."
The team came up with small AI modules to address quality, network security and other specific causes of cyber illness.
REU Program Mentors
Mizzou's REU program consistently has a strong group of mentors who are invested in ensuring the program is a success for participants. Students were grateful for the time and effort their mentors spent guiding them through the research training process.
This year's faculty mentors included:
Prasad Calyam EECS associate professor, director of the Virtualization, Multimedia and Networking (VIMAN) lab and director of the Mizzou CERI Center
Yi Shang, professor and director of graduate studies for Electrical Engineering and Computer Science
Kannappan Palaniappan, EECS professor and director of the Computational Imaging and VisAnalysis (CIVA) lab
Marjorie Skubic, EECS professor and director of the MU Center for Eldercare and Rehabilitation Technology
Khaza Anuarul Hoque, EECS assistant professor
Jane Howland, a teaching professor and learning technologies program director for the School of Information Science & Learning Technologies, served as program evaluator.
Valibhav Akashe, a master's student in computer science, assisted Calyam in the coordination of this year's program activities. Other graduate student mentors were: Samaikya Valluripally, Anup Mishra, Deniz Kavzak Ufuktepe, Alicia Esquivel, Chengyi Qu and Imad Eddine Toubal.
For more information about the REU, visit the website.