March 31, 2022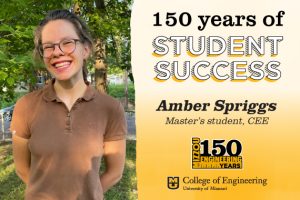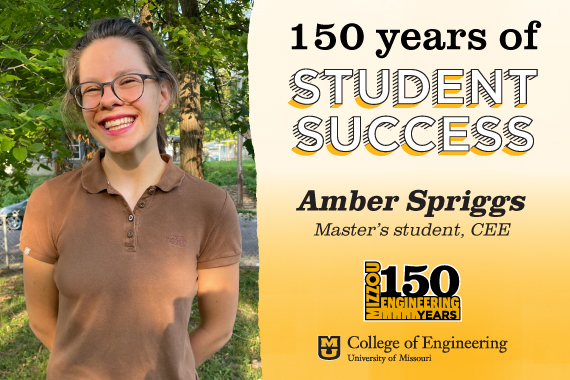 As part of the 150th anniversary of our incorporation as a College, we are highlighting outstanding students including those in the Civil and Environmental Engineering S-STEM Scholars Program.
Funded by the National Science Foundation, CEE S-STEM Scholars are part of a national program to meet the need for well-trained civil engineers. These Scholars, both undergraduate and graduate students, form a diverse group seeking to successfully graduate with an ABET-accredited civil engineering degree. The first class of CEE S-STEM Scholars was named in time for Fall 2021.
Graduate student Amber Spriggs is passionate about water resource engineering, which is part of her environmental emphasis as a master's student. Spriggs, from Chagrin Falls, Ohio, is a member of Engineers without Borders and credits the group for inspiring her to incorporate sustainability in technical solutions to global water problems. As an engineering intern for the City of Columbia, Spriggs has already been able to work on water related projects that benefit Columbia community members.
Why did you choose Mizzou Engineering?
I really liked Mizzou's civil engineering program, because it offers a good variety of emphasis areas to explore. I also really enjoy living in Columbia – so many parks and trails to explore!
How has being an S-STEM Scholar helped you at Mizzou Engineering?
Through the NSF S-STEM Scholars' program, I've gained leadership and networking opportunities. The program also provides a support system of people in the College of Engineering who have been incredibly helpful in my transition from undergraduate to graduate school.
What would you tell others to encourage them to consider applying for the S-STEM Scholarship?
The NSF S-STEM program really revolves around helping students succeed and achieve their goals. You can't go wrong in applying!
What's been your best experience at Mizzou Engineering to date?
That is such a difficult question to answer! I am teaching assistant (TA) and lead the lab section of Fundamentals of Water Resource Engineering. It has been a great experience. I really enjoyed the lab when I took it as an undergraduate student, so it's a lot of fun to be on the teaching end.
Why would you recommend Mizzou Engineering to others?
Mizzou's College of Engineering offers a huge variety of emphasis areas, organizations and research opportunities, so students can really tailor their academic program to suit their interests.
Learn more about the S-STEM Scholars Program.