February 23, 2022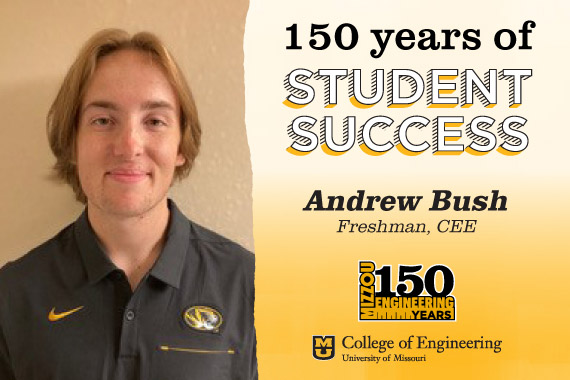 As part of the 150th anniversary of our incorporation as a College, we are highlighting outstanding students including those in the Civil and Environmental Engineering S-STEM Scholars Program.
Funded by the National Science Foundation, CEE S-STEM Scholars are part of a national program to meet the need for well-trained civil engineers. These Scholars, both undergraduate and graduate students, form a diverse group seeking to successfully graduate with an ABET-accredited civil engineering degree. The first class of CEE S-STEM Scholars was named in time for Fall 2021.
First-year Mizzou Engineering CEE student Andrew Bush comes from the rural community of Waterloo, Illinois, but is passionate about cities and the systems that lie within them. Growing up, he was a part of an agricultural environment while less than one hour from the urban enclave of St. Louis. Bush is a member of the inaugural S-STEM Scholar class.
Why did you choose Mizzou Engineering?
My father is in the construction industry, so I have always had exposure to buildings and blueprints. Mizzou Engineering seemed to be the best place for me to hone my skills in this area and grow both professionally and as a person.
How has being an S-STEM Scholar helped you at Mizzou Engineering?
Being an S-STEM Scholar immediately put me in the hands of some very successful individuals in the department. These same individuals are looking out for me and answering any questions I may have. It really is a blessing and an amazing opportunity I have been given.
What would you tell others to encourage them to consider applying for the S-STEM Scholarship?
Being an S-STEM scholar helps make sure your needs are taken care of. The people associated with the group are experienced individuals and want to help you succeed. The small community we have is full of drive and passion for success in this field.
What's been your best experience at Mizzou Engineering to date?
My best Mizzou Engineering experience would be our introduction ceremony for the S-STEM Scholars. I had the opportunity to meet those who I would be working closely with over the next several years and knew that I was in good hands and would be taken care of.
Why would you recommend Mizzou Engineering to others?
Mizzou Engineering gives you a sense of belonging the second you walk through those doors. People here care about you and want you and everyone else to succeed, both in life and in the field. It is truly another home.
Learn more about the S-STEM Scholars Program.