May 05, 2022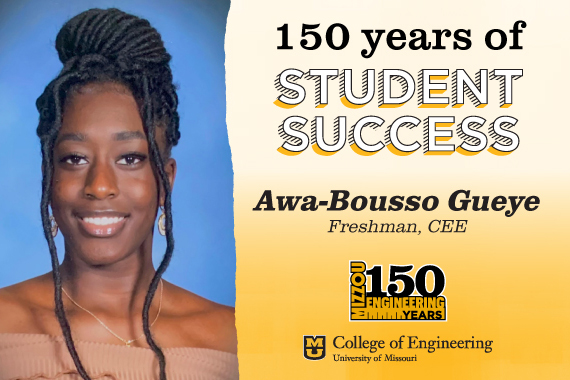 As part of the 150th anniversary of our incorporation as a College, we are highlighting outstanding students including those in the Civil and Environmental Engineering (CEE) S-STEM Scholars Program.
Funded by the National Science Foundation, CEE S-STEM Scholars are part of a national program to meet the need for well-trained civil engineers. These Scholars, both undergraduate and graduate students, form a diverse group seeking to successfully graduate with an ABET-accredited civil engineering degree. The first class of CEE S-STEM Scholars was named in time for Fall 2021.
Pre-engineering student Awa-Bousso Gueye aspires to be a civil engineer to help ensure the safety of our environment and the comfort of consumers. She sees engineers as the backbone of society as they use STEM principles to improve living conditions and prevent possible challenges. On her Mizzou journey, she has the support of her family and the support of CEE to succeed and ultimately help improve the world.
Why did you choose Mizzou Engineering?
I chose Mizzou Engineering specifically for its accredited civil and environmental engineering department and 5-year accelerated master's program. I also chose Mizzou Engineering for its active company sponsors such as Burns & McDonnell as well as Black and Veatch.
How has being an S-STEM Scholar helped you at Mizzou Engineering?
Being an S-STEM Scholar has helped me both financially and educationally. I have had the opportunity to talk one-on-one with civil engineering professors which has helped me navigate my classes. I was also able to meet other S-STEM scholars who have now become great friends! Having financial security has allowed me to focus more on my studies which maximizes my investment towards my education.
What would you tell others to encourage them to consider applying for the S-STEM Scholarship?
For anyone considering applying to the S-STEM Scholarship, I would say do it! There is nothing to lose and many benefits to gain. Though it is a competitive scholarship, passion for engineering alone can put you in the running for such an amazing opportunity.
What's been your best experience at Mizzou Engineering to date?
My best experience to date would be joining the NSBE (National Society of Black Engineers). Since then, I have made so many new engineering friends and currently hold a leadership position within the organization. Surrounding myself with engineers has made college easier and enjoyable.
Why would you recommend Mizzou Engineering to others?
I would recommend Mizzou Engineering because of the endless opportunities. Not every college offers the amount of engineering majors that Mizzou does. Also, not every college emphasizes engineering. Mizzou is proud of its engineers as evidenced in engineering traditions such as Engineers' Week or Engineering Career Fairs. With endless engineering organizations, you are sure to find the right fit for you! Lastly, with many Mizzou Engineering company sponsors, the chance of internships and full-time positions out of college is extremely high!
Learn more about the S-STEM Scholars Program.