March 17, 2022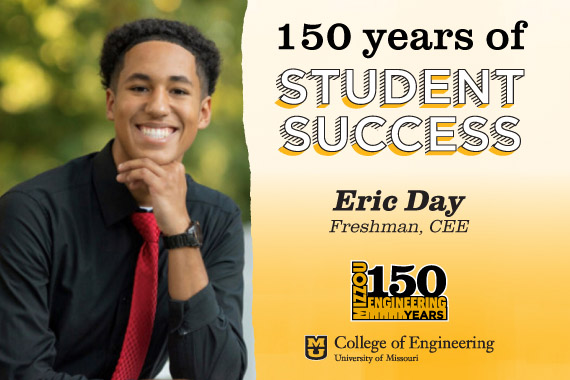 As part of the 150th anniversary of our incorporation as a College, we are highlighting outstanding students including those in the Civil and Environmental Engineering S-STEM Scholars Program.
Funded by the National Science Foundation, CEE S-STEM Scholars are part of a national program to meet the need for well-trained civil engineers. These Scholars, both undergraduate and graduate students, form a diverse group seeking to successfully graduate with an ABET-accredited civil engineering degree. The first class of CEE S-STEM Scholars was named in time for Fall 2021.
Eric Day, a first-year student from Springfield, Illinois, enjoys mathematics and using his critical thinking skills to complete engineering projects. enjoys the outdoors and likes meeting new people to expand his support network at Mizzou.
Why did you choose Mizzou Engineering?
I chose Mizzou Engineering because I feel engineering incorporates my skills, which are mathematics and science. It was a perfect fit for my skill set and was a great way to expand my knowledge and challenge myself.
How has being an S-STEM Scholar helped you at Mizzou Engineering?
It has given me an outlet to continue expanding my knowledge. I have been given multiple opportunities to work in the community. Also, I am given more help to further my education in civil engineering from knowledgeable professors to make sure I am on the right track.
What would you tell others to encourage them to consider applying for the S-STEM Scholarship?
I would encourage others to apply for the scholarship because there are no downsides to being a part of this team. The benefits of the scholarship are beneficial to those who want to be engineering majors. You can further your understanding of your major from other scholars who are part of the program or knowledgeable professors.
What's been your best experience at Mizzou Engineering to date?
I would say my best experience so far at Mizzou Engineering would be taking my Engineering 1100 class. It was fun because we, the students, had to use a drawing program to construct certain models. It challenged me to work harder on my assignments.
Why would you recommend Mizzou Engineering to others?
I would recommend Mizzou Engineering to others because of its community around campus. There are a multitude of different engineering-based clubs on campus that incorporate different aspects of engineering. It is very diverse, having people of color represent the community. Also, the professors are very engaged and committed to the success of their students. Having reliable outlets, such as peers, professors or TAs, are very key to someone's success moving through college. I feel like Mizzou does a fantastic job making people feel included in the community.