February 16, 2022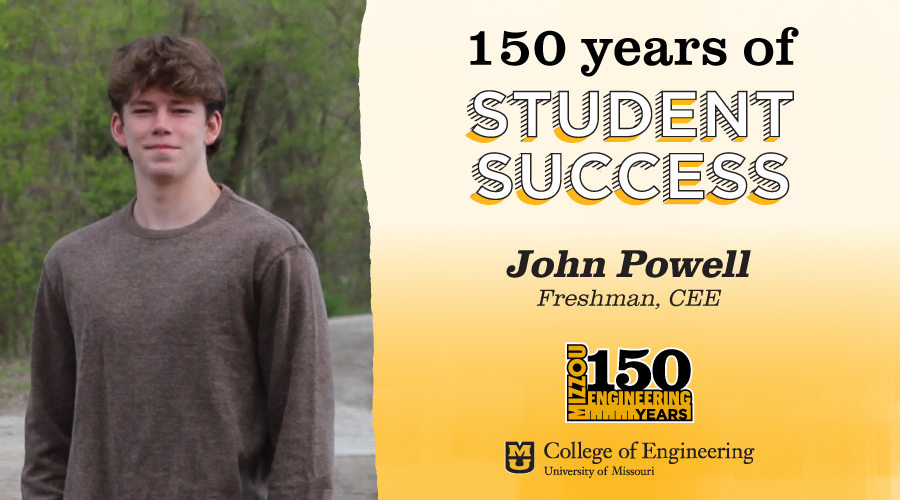 As part of the 150th anniversary of our incorporation as a College, we are highlighting outstanding students including those in the Civil and Environmental Engineering S-STEM Scholars Program.
Funded by the National Science Foundation, CEE S-STEM Scholars are part of a national program to meet the need for well-trained civil engineers. These Scholars, both undergraduate and graduate students, form a diverse group seeking to successfully graduate with an ABET-accredited civil engineering degree. The first class of CEE S-STEM Scholars was named in time for Fall 2021.
John Powell, a freshman from Columbia, Missouri, and lifelong Tiger fan, is a member of the first group of S-STEM Scholars at Mizzou Engineering. He was introduced to civil engineering and AutoCAD in high school at the Columbia Area Career Center, although he had always been fascinated with the process behind bridge and building construction. Powell credits his high school teachers and class experiences to solidifying his career plans in civil engineering.
Why did you choose Mizzou Engineering?
Mizzou Engineering felt like the perfect fit after I met with the staff and faculty and toured the civil and environmental department. Everyone was very welcoming and reassuring in supporting me through my journey towards getting my degree.
How has being an S-STEM Scholar helped you at Mizzou Engineering?
Knowing you have a supporting cast to lean back on if you are unsure about class material takes a lot of stress off my shoulders.
What would you tell others to encourage them to consider applying for the S-STEM Scholarship?
If you have a passion for civil engineering, definitely apply for the scholarship. The scholarship funding is very helping but more importantly, taking on such a hard major can be overwhelming and this scholarship's purpose is to surround you with the people to guide you through that process.
What's been your best experience at Mizzou Engineering to date?
My favorite experience so far has been using the Mac labs' CAD software. I've always found AutoCAD to be fascinating and having a lab full of high-tech Macs to do your work on is very handy.
Why would you recommend Mizzou Engineering to others?
With Mizzou Engineering, you are getting the full experience. The community offers supportive professors and tutors, state-of-the-art resources and a great education that will give you a smooth transition into the workforce.