February 08, 2022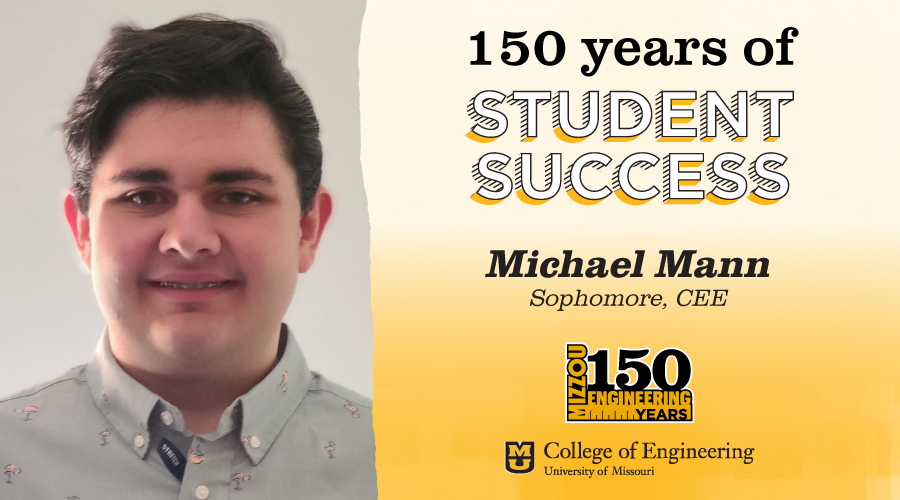 As part of the 150th anniversary of our incorporation as a College, we are highlighting outstanding students including those in the Civil and Environmental Engineering S-STEM Scholars Program.
Funded by the National Science Foundation, CEE S-STEM Scholars are part of a national program to meet the need for well-trained civil engineers. These Scholars, both undergraduate and graduate students, form a diverse group seeking to successfully graduate with an ABET-accredited civil engineering degree. The first class of CEE S-STEM Scholars was named in time for Fall 2021.
Sophomore Michael Mann is one of the members of the inaugural Scholars class. Although enjoying math and science from a young age, Mann did not become interested in engineering until his junior year at McDonald County High School in Pineville, Missouri. That's when he discovered he could apply his enthusiasm for math and science to engineering studies and potential future work.
Why did you choose Mizzou Engineering?
The Mizzou Engineering program had always stuck out to me when I was applying to colleges. Being the flagship school of Missouri, it was clear the best opportunities for engineering were here. The student and alumni involvement are unmatched when compared to other universities, both in state and out.
How has being an S-STEM Scholar helped you at Mizzou Engineering?
Being an S-STEM Scholar has helped me in quite a few ways. Most prominently, I have been given multiple networking opportunities that have helped me socialize with fellow S-STEM Scholars as well as future employers. The program has also helped me become more involved in the community as we participate in community service on a periodic basis.
What would you tell others to encourage them to consider applying for the S-STEM Scholarship?
Originally, when I applied for the S-STEM Scholarship, I was anxious about submitting my application. I doubted whether I was truly capable of being part of the program. The best piece of advice I could pass to those who are considering applying is go for it. I had almost let my anxiety deprive me of this opportunity. Looking back now, I know my anxiety was completely ungrounded. The fear of rejection should never prevent anyone from pursuing their goals – not just in this specific instance, but in all aspects of life. To those who are anxiously on the fence, wondering whether to apply, I say go for it.
What's been your best experience at Mizzou Engineering to date?
Since joining the Mizzou Engineering program, I have had multiple opportunities to network with Mizzou alumni. The best experience I have had was at one of these meetings. It was a relaxed meet-and-greet and I, as well as the other students who participated, were able to ask questions about the day-to-day lives of the alumni. It was nice to be able to talk to the alumni in a less professional manner and truly discover the personalities of individuals who completed my degree path.
Why would you recommend Mizzou Engineering to others?
I would recommend Mizzou Engineering to others because of the opportunities students are granted. There are multiple networking prospects present throughout the school year that allow students to explore different employers from different fields. This allows students to not only meet their future employer, but also prepare for the job hunt in general as it gets students to discover the benefits of working for different firms.
Learn more about the S-STEM Scholars Program.