November 04, 2022
Funded by the National Science Foundation, Civil and Environmental (CEE) STEM Scholars are part of a national program to meet the need for well-trained civil engineers. These Scholars, both undergraduate and graduate students, form a diverse group seeking to successfully graduate with an ABET-accredited civil engineering degree.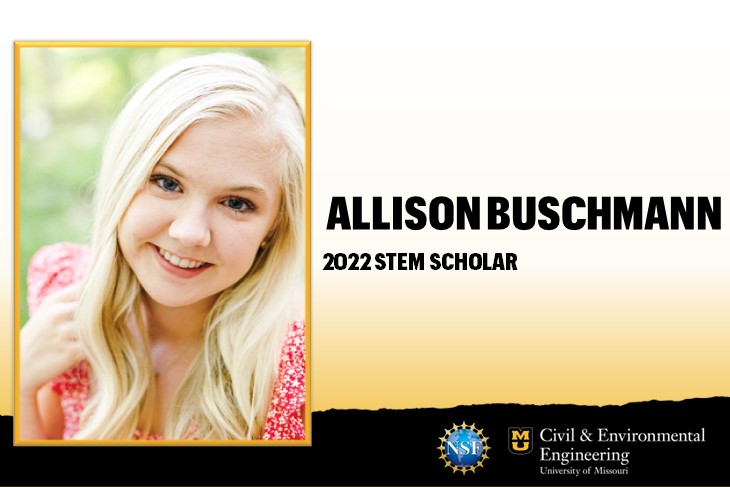 Allison Buschmann is from Vienna, Missouri, and she came to Mizzou excited about her future. She says her passion for engineering comes from her love of designing and strength in math and science.
We asked her a few questions about being a STEM Scholar at Mizzou.
How did you first get introduced to engineering?
I have always loved designing, as well as math and science. When looking for majors at Mizzou, I came across Civil Engineering, and thought I would enjoy it. I talked to some Civil Engineering majors, and they had nothing but good things to say about the program here.
Why are you interested in pursuing engineering?
I believe that engineering is very important in our society today and will grow increasingly important in the coming years. It is important to have diversity in engineering to grow stronger ideas. Engineering is definitely a male-dominated career path, and I believe it is important to help change that, and get more women interested in this path as well!
Why did you choose Mizzou Engineering?
When touring the Mizzou campus, I fell in love. I love that the campus is not huge, and it feels like its own little town. In Mizzou Engineering, there are so many resources to help out when needed. Everyone is so kind, and always willing to answer any questions, which I feel is important! There is so much to learn as a freshman, and I am very thankful to have already made connections that will help me grow in the future.
How has being a STEM Scholar helped you at Mizzou Engineering?
The STEM Scholar program is so much more than just a scholarship. I have only been a part of this program for a short time now, and I have made friendships that I hope to keep. The program also offers extra services for tutoring, aid in obtaining an internship, and opportunities for research if interested.
What would you tell others to encourage them to consider applying for the STEM Scholarship?
Go for it! If you are eligible for this scholarship, apply! This program has so much to offer and has been so helpful in starting my education here at Mizzou.
What's been your best experience at Mizzou Engineering to date?
Being my first semester in college, I have not had many experiences yet, but hope to get involved in many clubs. My best experience so far has been the Engineering Career Fair. I was very nervous to go, and had no idea what to expect, but I took the initiative to talk to many companies and learn more about them. Even if some companies do not take freshman interns, it was still great to get my name out there, and to get experience talking to employers for future encounters. I feel that I now am better able to prepare myself, as well as know what to expect.
Why would you recommend Mizzou Engineering to others?
Mizzou engineering has so many opportunities! If you are choosing which university to study at, I recommend learning more about Mizzou engineering, touring the engineering building, and even talking to faculty and students about their experiences here. The companies that I talked to at the Engineering Career Fair love hiring Mizzou graduates as well!
Thanks for sharing, Allison!
Learn more about the STEM Scholars Program.