February 04, 2022
Seniors in the Department of Civil and Environmental Engineering at Mizzou conclude their coursework with a semester-long capstone project. These capstone projects allow students to apply what they've learned in their classes and work together in teams to study real world challenges and offer recommendations to those problems.
The experience gives students the hands-on preparation they need to be successful after graduation.
Below are the CEE capstone projects from the Fall 2021 semester. Take a few moments to learn how civil and environmental engineers develop solutions to engineering problems.
Capstone Team 1
Project: Pre-Engineered Metal Building Systems (PDF)
Team Members: Trace Sederwall, Annika Jurczyk, Lauren Rhodes
Objective: Design a framing plan for pre-engineered metal building systems.
---
Capstone Team 2
Project: Kingdom City U.S. Route 54/Interstate 70 Interchange (PDF)
Team Members: Anthony Perez, Kylie Eichholz, Baily Stewart, Kyle Pitts
Objective: Make a traffic model recommendation for the Route 54/Interstate 70 Interchange in Kingdom City.
---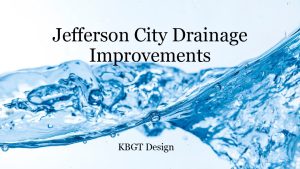 Capstone Team 3
Project: Jefferson City Drainage Improvements (PDF)
Team Members: Hunter Tucker, Kendall Burditt, Josh Gabel, Josh Keeton
Objective: Identify water drainage issues and determine solutions in Jefferson City.
---
Capstone Team 4
Project: Tiger Construction: Discovery Parkway Extension and Lenoir Street Improvements (PDF)
Team Members: Charlie McClain, Noah Gerdes, Sean Hertogs, Joe Modica
Objective: Determine project overview, potential issues, cost and a projected schedule for the Discovery Parkway extension and Lenoir Street improvements in Columbia.