February 18, 2022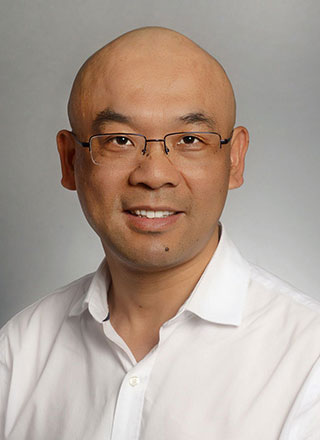 Jianlin "Jack" Cheng — William and Nancy Thompson Distinguished Professor in the Department of Electrical Engineering and Computer Science — has been elected to the American Institute for Medical and Biological Engineering (AIMBE) College of Fellows for his outstanding and pioneering contributions to developing machine learning for modeling protein and genome structures.
The College of Fellows is comprised of the top 2% of medical and biological engineers in the country. Cheng was nominated, reviewed and elected by peers and current fellows and will be inducted at AIMBE's Annual Event on March 25.
"AIMBE Fellows have helped revolutionize medical and biological fields," he said. "I'm honored and humbled to have been selected to join this prestigious group."
Cheng is internationally known for his work around using machine learning and artificial intelligence (AI) methods in bioinformatics, specifically deep learning models to advance the field of protein structure prediction. His method to predict protein residue-residue contacts was ranked No. 1 in the protein contact prediction competition at the 10th worldwide Critical Assessments of Structure Prediction (CASP10) in 2012, demonstrating deep learning as the best technology for protein structure prediction for the first time. His team continued to place among top groups in CASP11-14 from 2014 to 2020.
Cheng is a member of the American Association for the Advancement of Science, the Association for Computing Machinery, the Institute of Electrical and Electronics Engineers and the International Society for Computational Biology. In 2019, he was named one of the Top 100 Global AI Leaders in Drug Discovery and Healthcare by Deep Knowledge Analytics.