April 14, 2022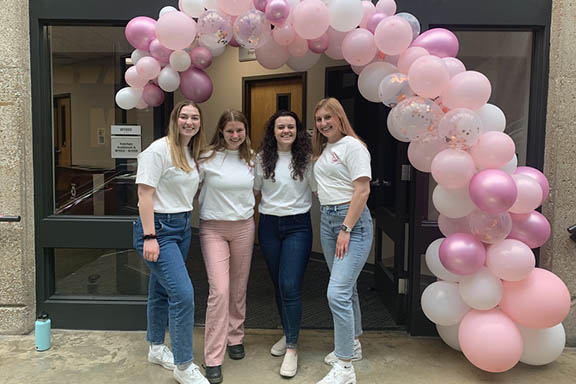 Women belong in engineering. That was one take-away from Mizzou Engineering Daughter Day, an event that invites Missouri middle and high school students to spend the day as a Mizzou Engineer.
Sponsored by the Mizzou Society of Women Engineers and Alpha Omega Epsilon, more than 20 students and guardians participated in the event, held April 9 at Lafferre Hall.
"Our goal was to spread the word on what engineers do, the vast range of careers you can have in engineering and get them excited about it," said sophomore Rosalie Garzia who, along with junior Clare Harmon, organized the program.
Held for the first time since 2019 and sponsored by Tradebot, Daughter Day inspired girls to learn about more engineering. The event kicked off with a hands-on activity that allowed participants to make flashlight circuits.
"The opening activity set the tone for the day that engineering is hands on," Garzia said. "Engineers don't sit at a desk all day, they're out making things, troubleshooting."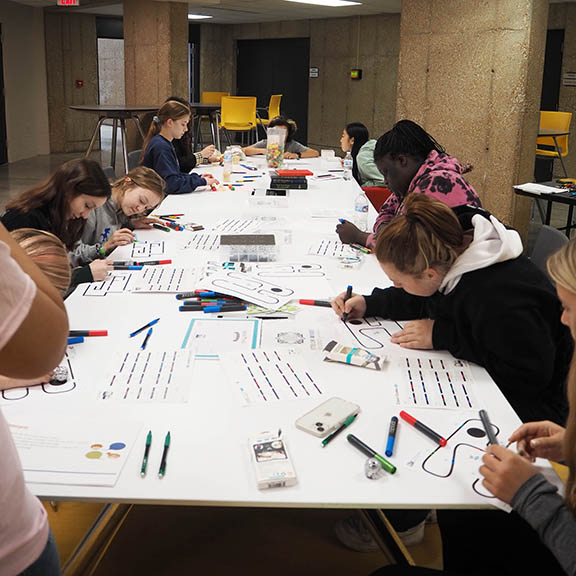 Middle school students also had the opportunity to make robotic hands using straws, string and paper towel tubes, while high schoolers programmed programed robots in a session led by Mandi Sonnenberg, director of STEAM projects and education at St. Teresa's Academy in Kansas City. MU Robotics also demonstrated Spot, the four-legged robotic dog from Boston Dynamics.
But it was a question-and-answer panel with Mizzou Engineering students and faculty that Garzia believes was one of the more impactful aspects of the program. The inclusive environment made it comfortable for younger students to ask questions without being intimidated by the college setting.
As current engineering students, Garzia and Harmon realize the importance of events aimed toward attracting women into engineering and relish the opportunity to give back. They especially enjoy helping build a welcoming environment for women interested in the field.
"I would have been all over this event when I was younger," Harmon said. "It's reassuring to see people like you who might have a similar background. I had no background in tech at all when I got here. When you get into engineering it can be very intimidating, so being able to see someone like you is really important"
"Organizations like SWE and AOE make it feel like you have a community," Garzia said. "Mizzou has so many identity-based organizations that are amazing to be a part of. They give you a sense of community and give you the confidence to go out and go into a room and say, 'my ideas are important too.'"
Gain an engineering education in a welcoming, supportive environment. Become a Mizzou Engineer!