July 25, 2022
A semester-long capstone project concludes coursework for seniors in the Department of Electrical Engineering and Computer Science. During these projects, students work together in teams to study real world challenges and offer recommendations to those problems. The experience gives students the hands-on preparation they need to be successful after graduation.
Below are the EECS capstone projects from the Spring 2022 semester.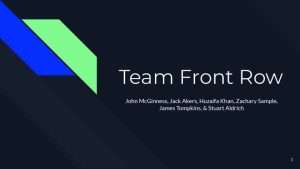 Project: Team Front Row – Project Vulcan
Team Members: John McGinness, Jack Akers, Huzaifa Khan, Zachary Sample, James Tompkins, Stuart Aldrich
Objective: Create system that allows users to program custom robots to be controlled in virtual reality.
---
Project: Manual Imaging Chamber
Team Members: Gavin Stoddard, Landon Swartz, Kalescia Thomas
Objective: Create a self-enclosed system that provides different viewpoints while giving the user access to consistent high-quality photos
---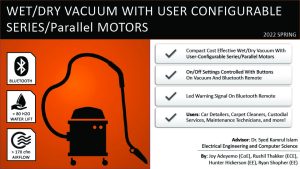 Project: Wet/Dry Vacuum with User Configurable Series/Parallel Motors
Team Members: Joy Adeyemo, Rushil Thakker, Hunter Hickerson, Ryan Shopher
Objective: Develop a compact, cost-effective wet/dry vacuum with user-configurable series/parallel motors
---
Project: Portable Wildfire Detector
Team Members: Kyle Denney, Riley Jackson, Andrea Varner, Dominic Youn
Objective: Create a portable system for detecting and reporting the location of a suspected wildfire
---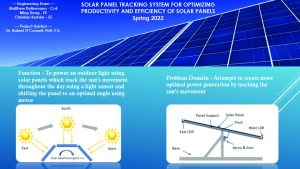 Project: Solar Panel Tracking System
Team Members: Matthew Kellermann, Ming Deng, Christian Kerbler
Objective: Solar panel tracking system for optimizing productivity and efficiency of solar panels
---
Project: Substation Design for Power Transmission and Distribution
Team Members: Nicholas Boggs, Hayden Mills, Brendan Young
Objective: Design a substation for power transmission and distribution
---
Project: 3-Axis Gimbal Mounted Camera
Team Members: Aaron Fuller, Charles Seibel, Alan Wendell, Sebastian Zheng
Objective: Design a three-axis gimbal-mounted camera that automatically tracks boat-towed watersport participants
---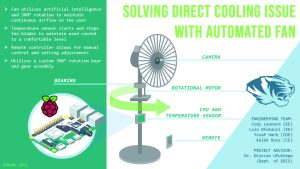 Project: Solving Direct Cooling Issue with Automated Fan
Team Members: Cody Leonard, Lolo Ofokansi, Yusaf Harb, Kaleb Ross
Objective: Create an automated fan that maintains continuous airflow on the user
---
Project: Self-Operating Sunlight Windshield Reflector
Team Members: Maya Alberhasky, Miles Buttress, Kirk Embrey, Joe Tierney
Objective: Develop a self-operating sunlight windshield reflector