October 21, 2022
Omiya Hassan, a PhD student in electrical engineering, was selected to attend Rising Stars in EECS, a prestigious academic career workshop being held at the University of Texas at Austin next week.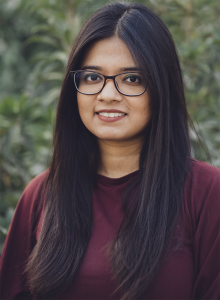 Now in its 10th year, Rising Stars in EECS began at MIT and has been hosted by some of the top universities in the country since. The goal is to provide insights, guidance and mentorship to historically underrepresented graduate students interested in a career in academia.
"It is a very competitive workshop," Hassan said. "Getting accepted was a big deal for me. I was super excited and happy."
The event begins with a poster session on Wednesday, Oct. 26. Then, on Thursday, participants will hear from speakers about searching for jobs in academia, how to impress committees, how to fund research and what to expect in a teaching career. Throughout the workshop, participants will be paired with a mentor.
"My goal is to get as much information from the presenters as possible," said Hassan, who expects to complete her PhD in May 2023. "Since I'm in the final year of my PhD program and will start applying, it will be great to hear from those on the other side."
She is also looking forward to the mentorship component. A mentor herself — Hassan received Mizzou's Undergraduate Research Mentor of the Year Award this past spring — she knows the value of that personal guidance.
In the Analog/Mixed Signal VLSI and Devices Laboratory under the direction of her advisor, Professor Syed "Kamrul" Islam, Hassan has worked with undergraduate and master's students to help them develop skills needed for research.
"I try to make the research as fun as possible, because I know research requires self-motivation," she said. "Research can be frustrating if you don't get the results you want, but I try to mentor them and give them ideas. If they are struggling or frustrated, I say let's work through it together."
She especially enjoys mentoring younger female students and helping them overcome insecurity.
"Going into a field where the majority is male, it's easy to have imposter syndrome," she said. "I always say be confident and as bold as possible."
That's why she's now encouraging other women in EECS to apply for the Rising Stars in EECS workshop in the coming years.
"We have this tendency to look at previous participants and assume we'll never get it," she said. "Just apply. Just do it."
That also goes for younger girls who are interested in science, technology, engineering and math. To middle and high school students, Hassan recommends reading as many science-related books as possible and seeking out videos and information about female engineers and scientists online.
Hassan received a bachelor's degree in electrical engineering in 2017 from the United International University, Bangladesh, and served as a lecturer at Presidency University, Bangladesh the following year.
At Mizzou Engineering, her research focuses on designing power efficient machine learning models based on integrated hardware and circuits for biomedical applications.
This past summer, she was a research scientist intern at Meta, where she worked on the biosensor team to research prototypes. While the work was enjoyable, Hassan — always eager to seek and provide mentorship — was thrilled to receive guidance from her boss.
"She was such a good manager and mentor, mentoring me every step of the way," Hassan said. "It was a great experience."
Work alongside and receive mentorship from rising stars in the field. Apply to Mizzou Engineering today!