January 05, 2022
Seniors in the Department of Industrial and Manufacturing Systems Engineering at Mizzou conclude their coursework with a capstone project. Through these capstone projects, they apply what they've learned in their classes to a manufacturing, health care or logistics problem provided by real-world companies. Students meet and work with their assigned companies to come up with answers to improve efficiency, quality, cost effectiveness and safety.
Students work together in small groups and with company representatives to develop and justify engineering solutions within the constraints of real problems. This experience gives students the hands-on preparation they need to be successful after graduation.
Below are the IMSE capstone projects from the Fall 2021 semester (note: company data has been removed, but the general project overview is provided). Take a few moments to learn how industrial engineers develop solutions to real engineering problems.
Ameren
Project: Optimal Project Scheduling (PDF)
Team Members: Zachary Beeson, Lauren Clay
Objective:
Build an optimal scheduling tool that minimizes labor cost when forecasting future transmission line construction projects resulting in a year-round 'levelized' contractor workforce.
---
Boone County Joint Communications
Project: Optimal 911 Call Operations (PDF)
Team Members: TJ Burke, Andrew Deadwyler, Kaylin Twenter
Objective:
Minimize the current error between the demand of incoming calls and the ability of the workers to respond to calls of MSE=66.45 by strategically scheduling workers to provide coverage to the change in hourly demand of calls over the course of a day of the week.
---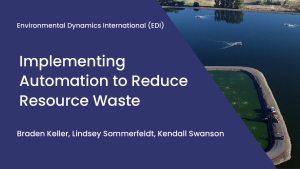 Environmental Dynamics International (EDI)
Project: Implementing Automation to Reduce Resource Waste (PDF)
Team Members: Braden Keller, Lindsey Sommerfeldt, Kendall Swanson
Objective:
Implement automation across the facility to reduce non-value-added operator time by 20 hours per week and increase machine production by 50 membranes per day.
---
MU Print & Mail
Project: Reducing Paper Waste (PDF)
Team Members: Nate Howard, Lauren Hyde, Gary Plaster
Objective:
Modify Make/Ready to accurately reflect 4-color printing processes and reduce paper waste.
---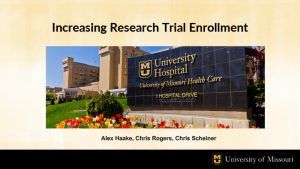 University Hospital
Project: Increasing Research Trial Enrollment (PDF)
Team Members: Alex Haeke, Chris Rogers, Chris Scheiner
Objective:
Increase the percentage of enrolled patients to 15% by decreasing waste in the screening process and implementing an optimized queuing model for the enrollment process.