May 02, 2022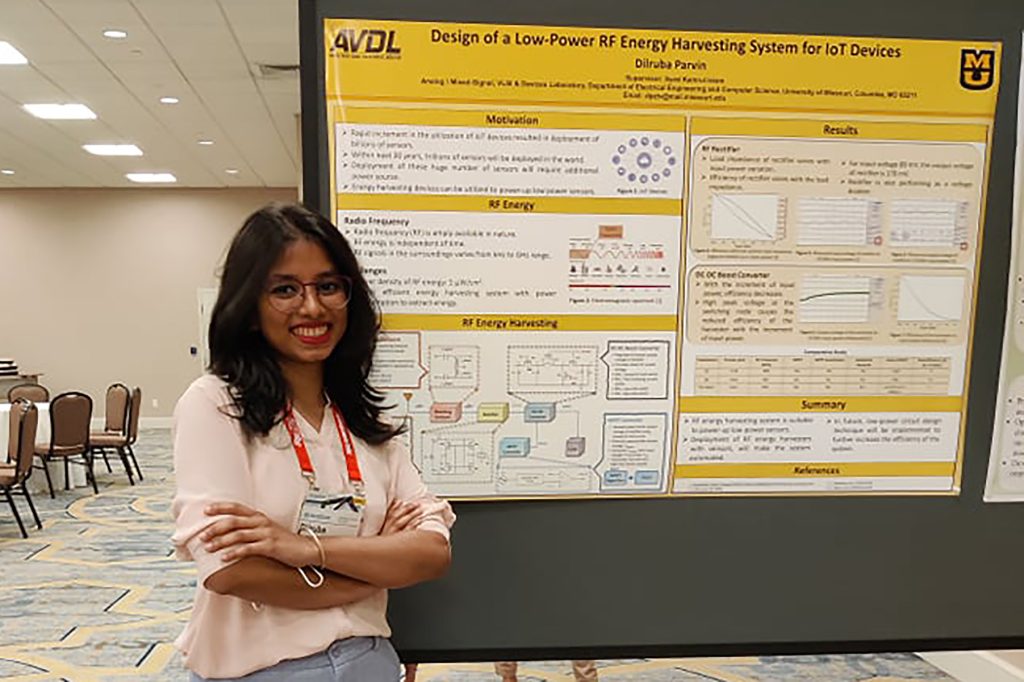 Dilruba Parvin is more prepared for a career in academia thanks to insights from the nation's top engineering chairs. Parvin, a PhD candidate studying electrical and computer engineering, recently attended the iREDEFINE Workshop, part of the 2022 ECEDHA Annual Conference in New Orleans.
ECEDHA (Electrical and Computer Engineering Department Head Association) hosts the iREDEFINE Workshop to connect women and underrepresented minority PhD students to professional mentors in hopes of encouraging them to pursue faculty positions.
During the three-day event, Parvin and roughly 30 other attendees heard from department chairs about navigating job searches, interview strategies, negotiation tactics and effective teaching methods. Parvin, whose research at Mizzou involves radio frequency-based energy harvesting system design, also presented her work projects during the first day of the event.
For Parvin, the workshop was especially timely, as she expects to finish her PhD at Mizzou in the fall. She hopes to find a faculty position at an R1, or research-based, university, and was grateful to hear from chairs throughout the nation on what they look for in their faculty.
"A very important point to me was that when you're going to join a faculty position, you have to look for the environment," Parvin said. "I also need to know how I can best contribute to that environment."
After earning a bachelor's degree in electrical, electronics and communication engineering from Military Institute of Science and Technology in Bangladesh, Parvin elected to pursue her PhD at Mizzou because of the financial support awarded and because her research interest perfectly aligned with that of Syed Kamrul Islam, chair of the department of electrical engineering and computer science. She works with Islam in his Analog/Mixed-Signal VLSI and Devices Laboratory.
Parvin served as a TA in the early days of her PhD program, and she currently works as a graduate instructor. The hands-on teaching experience has been imperative in preparing Parvin for a future faculty position, as she has learned how to manage a course, deliver lectures and give feedback on assignments.
She has been able to apply what she has learned from her mentors to undergraduate students both in the classroom and the lab, including one student who recently earned a coveted internship at NASA this summer.
"There are always people who want to help," Parvin said. "At Mizzou Engineering, faculty and staff are always happy to walk you through applying for an internship, preparing your resume or connecting you to an industry professional. All you have to do is ask."
Learn more about how EECS and how students solve real-world problems.