October 14, 2022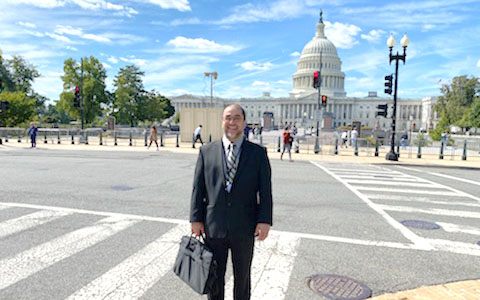 Big tech companies aren't the only ones that need employees skilled in information technology. Advanced manufacturing, healthcare, infrastructure —practically every sector of our society relies on skilled professionals who can apply technology.
That's why Mizzou Engineering has established a new Department of Engineering and Information Technology with plans to expand programming and prepare more students for these in-demand, high paying careers.
"Engineering, like any discipline, needs to evolve to meet real-world needs," said Noah Manring, Dean and Ketcham Professor. "We've had a strong information technology program for years. This will allow us to build upon that foundation and provide multiple pathways for students who want to work with technology."
Professor Hani Salim has been named interim chair of the department.
"Engineering technology really opens the door to allow more students to learn applied, industry-relevant skills," Salim said. "These graduates will go on to work alongside other engineers to implement and manage technological processes."
One of the unique aspects of the new department will be a focus on hands-on experience. Salim plans to partner with the private sector to give students opportunities to complete real-world projects, developing a working knowledge of how to implement and carry out engineering processes.
Last week, Salim attended the American Society for Engineering Education (ASEE) 2022 Engineering Technology Leaders Institute in Alexandria, Virginia, to hear more about the future of engineering technology education.
During the trip, he and colleagues from The Ohio State University and the University of Toledo met with state senators and representatives to discuss how engineering technology can help fill critical workforce needs. The meetings also focused on how engineering technology can provide a seamless path to a STEM career, not only for traditional students but also for working adults who want a career change and veterans transitioning to the civilian workforce.
Salim also heard from ASEE, National Science Foundation and other higher education leaders about emerging technology programs, funding opportunities and how to meet regional needs in addition to national needs.
"The conference gave me a lot of great ideas as we work to expand programming around engineering and information technology," Salim said. "I am excited to be a part of building the department. This is going to be a game-changer not only for the College but also for the thousands of students who will come into this department and leave with practical, hands-on skills they need to succeed."
Be part of our exciting new Department of Engineering and Information Technology. Apply today.