August 24, 2022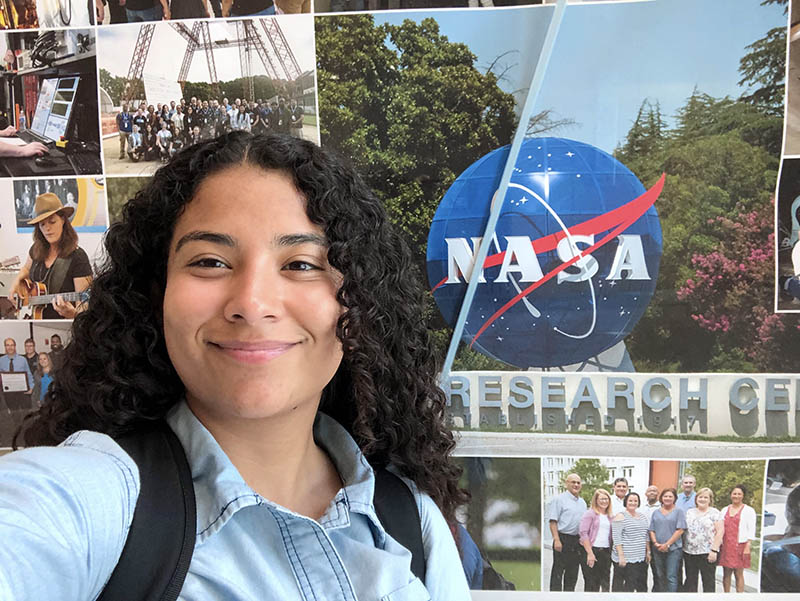 At Mizzou Engineering, students connect with top organizations to conduct internships and co-ops. Jazmin Renteria Gonzalez, an electrical engineering major, spent her summer at NASA. We asked her about the experience.
Tell us about your internship at NASA. What was your role and primary responsibility?
I was an intern as part of the Pathways Program at NASA Langley Research Center. This program ensures civil servant employment at NASA after graduation. My official title was an Electrical Engineering Intern. I was in a group of five students from across the country, and we were tasked to design an RF energy harvesting circuit. My primary responsibility was to learn about and design the different topologies that we'd use — those sketches were later used to design the circuits using Altium PCB Designer.
What was a typical day like?
The typical day looks like a mixture of meetings, independent study, group discussions and lab work. My mentor emphasized the importance of wanting us to learn about anything we wanted while we were there. My days were spent meeting different people from the NASA center, seeing the different projects that were going on, and I even got to work on some other projects apart from my own. I had the amazing opportunity to see two instruments that will be in space on the International Space Station in a few months. Every day was a new adventure and a new opportunity to dive into the unknown.
How did Mizzou Engineering prepare you for this internship?
Mizzou Engineering prepared me tremendously for this internship. Apart from the classes, the organizations I was involved in during my freshman and sophomore years were pivotal to me succeeding in my internship. MU Robotics and SHPE (Society of Hispanic Professional Engineers) were the two that had the most profound effect on me, both as an individual and in my technical competencies. I was able to apply lessons I learned about teamwork, technical processes and communication to make our project a success — which it was! Before I landed this internship, I was also able to learn about RF energy harvesting under the supervision of Dr. Syed Kamrul Islam and an amazing graduate student, Dilruba Parvin, who taught me RF energy topics in a research assistantship position during the Spring 22 semester.
How did Mizzou Engineering Career Services assist you with securing or preparing for this internship?
Mizzou Engineering Career Services helped me secure this internship as well. Since day one, I knew I had support in the College of Engineering to pursue whatever I wanted. From Mad Dash Resume reviews to the Career Fairs, Mizzou Engineering Career Services prepares their students for their future, whether it be graduate school or industry. The culmination of continued support throughout my freshmen and sophomore years, editing my resume the best I could, hearing from companies the best practices for interviews, etc. all led to me securing this internship. I credit support from Mizzou's Engineering Career Services for preparing me for internship.
What have you enjoyed most working at NASA so far?
My internship team and I sat together in one of the conference rooms while we watched the historic unveiling of the James Webb Telescope images. I will never forget the feeling of being a part of the organization that made this possible, it felt surreal. In high school, I was a part of dual credit astronomy courses at the University of Missouri – Kansas City, so I knew what these images meant for the future of us understanding our universe. The atmosphere at NASA is one of curiosity and support — even to interns; I will definitely be returning for more.
What have you learned from your internship experience?
From my internship experience, I've learned that I really enjoy the research process and I want to pursue graduate school for electrical engineering. I was on the fence about pursuing graduate school before this internship, but I now have my goals set to that. This internship experience has also taught me a lot about communication, time management and goal setting. Being away from home and having to navigate living and working in a completely different state was not an easy feat, but I persevered and made it possible. Most of all, however, I now have more confidence in myself and the things I want out of life since completing this internship. It has taught me that nothing is impossible.
What advice would you give other students wanting to have a similar internship experience?
I would tell students wanting to have a similar internship experience to just get out there and explore everything that Mizzou has to offer. I was once a timid freshman and definitely made some mistakes along the way, but it's all a learning process and the staff and faculty at Mizzou are here to help you.
Thank you for sharing!
Want a life-changing internship? Come to the Fall 2022 Career Fair to connect with amazing employers!