October 31, 2022
A PhD student has discovered a way to turn unrecyclable plastic into building insulation that is 150% more effective than its untampered state on the market.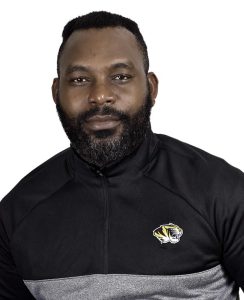 For his research, Osasu Osaze earned the People's Choice Award at this year's 3MT® competition sponsored by the University of Missouri Graduate School.
"The award is determined by the audience and shows that so many people really like the work," Osaze said. "I was really excited. It leads me to believe what I'm doing is good for the world, good for society and good for people. It also made me appreciate all of the support I receive from engineering and from my advisor, which are key for success."
Under the direction of Professor Sanjeev Khanna, director of the Midwest Industrial Assessment Center, Osaze's research focuses on finding solutions to environmental challenges such as combating pollution and promoting energy efficiency.
Osaze presented his three-minute thesis on an innovative new way to recycle a specific type of plastic known as polypropylene. This plastic covering typically is rarely recycled and can cause significant harm to marine life and the environment.
To circumvent the problem, Osaze devised a way to turn that trash into more efficient insulation using 3D printing. In short, he melts the polypropylene down into filaments, then uses that to print insulating materials layer by layer.
Those layers have a special hollow property — like the unique structure of polar bear hair — that can withstand the elements, making them ideal for insulation.
"This type of building insulation has high-impact resistance," he said. "It's a good building insulator with some additional ability to resist severe hailstone damage that conventional insulators do not have."
The 3MT® event is for PhD and professional doctorate candidates who have passed their confirmation milestone. Osaze signed up for the competition after he presented his research at Focus on Africa, an event held at MU earlier this month. He was encouraged by audience interest and decided to share his idea with a larger group.
The People's Choice Award is just one of many accolades Osaze has received at Mizzou. He's also been named a Mizzou 18 for his contributions as a graduate student. This past spring, he won first place in the engineering, computer and information sciences category at the Research & Creative Activities Forum (RCAF) sponsored by the Graduate Professional Council, which has also honored him with a student leader award.
Osaze came to Mizzou in 2016 from Nigeria after reading a book on fluid power written by Noah Manring, currently Dean of Mizzou Engineering. The book was well-written and provided detailed but clear information that inspired Osaze to inquire about Mizzou and ultimately enroll.
On campus, he's involved in the African Graduate and Professional Student Association, STRIPES, the 3D Printing Club and is founder of the MU Fundamental Engineering Team.
"Mizzou can seem like a big place, but it's just like a community because of all of the different student organizations," he said. "You form friendships and bonds that are instrumental. I'm happy to be here."
Conduct research that changes the world. Apply to Mizzou Engineering today!