December 12, 2022
After a nontraditional college experience, engineering graduate Josh Ward is ready to tackle a career opportunity with Amazon.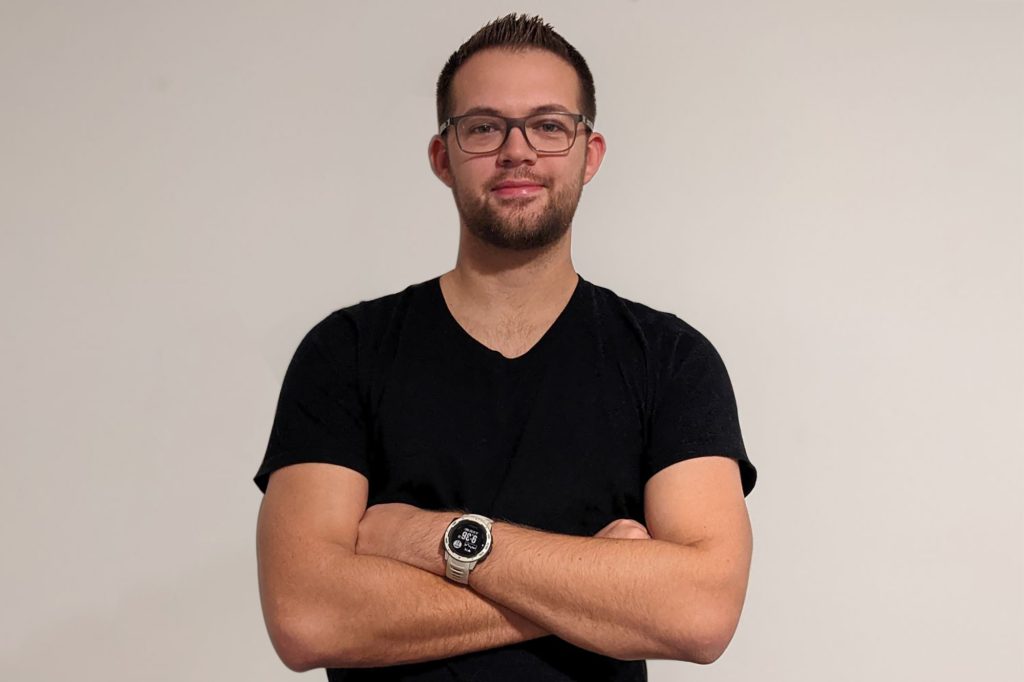 National Guard veteran and soon-to-be University of Missouri computer science graduate Josh Ward didn't need to spend his final semester looking for a job. After participating in internships, student organizations and undergraduate research at Mizzou, Ward received an offer to work at one of the biggest companies in the world: Amazon Web Services (AWS).
Ward will work alongside other software engineers on AWS cloud file system implementations. The job will be a continuation of his most recent internship, and Ward said he's excited to rejoin the project.
"I worked hard this summer to leave a good impression, and they ended up extending the job offer at the end of the internship," Ward said. "I'm very happy with the outcome. It's a relief to have the job lined up, and Amazon is a good company to work for."
The AWS internship came to Ward after a recruiter looking for veterans studying computer science reached out on Handshake, MU's employment website. Ward said the opportunity reaffirmed his interest in programming and allowed him to put to work some of the things he learned at Mizzou.
"MU's programming classes, specifically the object-oriented programming class, were helpful since my internship was in Java," he said. "Generally, my engineering classes helped prepare me and provided skills I used on the job."
But it wasn't just his classes that prepared him for the job with AWS, it was the full Mizzou engineering experience.
Getting the most out of Mizzou
Ward grew up in St. Charles, Missouri. After high school, he enrolled in the Army National Guard — like many of his family members before him. After spending five months in basic training and advanced individual training, Ward refocused his efforts on his education. He enrolled at Mizzou in fall 2017 and began pursuing a computer science degree.
"The Missouri Army National Guard's benefits allowed me to attend Mizzou and be able to focus on my coursework," Ward said. "Professors here were understanding of obligations that arose, and my leadership was understanding of academic commitments."
After arriving in Columbia, Ward quickly looked for ways to build new connections with his classmates. That search led him to explore engineering student organizations, and he joined the Mizzou Computing Association.
"You meet a lot of really cool people through student orgs," Ward said. "It's pretty easy to say, 'Oh, I don't have time, I have homework,' but at the end of the day, if you can make time for student orgs it pays off."
After taking a brief break from classes for a deployment overseas, Ward returned to Mizzou and got involved in Upsilon Pi Epsilon (UPE), the International Honor Society for the Computing and Information Disciplines. He served for as secretary, then vice president for Mizzou's UPE chapter.
Ward also began an undergraduate research project around color analytics with Associate Professional Practice Professor Gillian Maurer.
"We're answering the question, 'What do people perceive when they look at images?'" Ward said.
And answering questions is something that made Ward stand out in class to Michael Jurczyk, an associate professor of electrical engineering and computer science and the faculty advisor of UPE.
"Josh is an exemplary team leader in Upsilon Pi Epsilon," Jurczyk said. "He's a hardworking student, very intelligent and persistent. And he was one of the few who were always willing to answer questions I asked in class — and answered correctly."
Going forth
Although his college career was not always linear, Ward is ready for the next chapter. He said he's excited for him and his wife to move to Atlanta and to take the lessons he's learned at Mizzou with him as he supports one of the world's largest retailers.
"Getting to work for Amazon, and grow through the company, is going to be an amazing experience," he said. "We're going to miss Missouri. Our families are here, and Mizzou holds a lot of memories, so we plan to visit frequently. But we're also looking forward to the future."
"I wouldn't change my Mizzou experience for anything," Ward said. "I've had a really good time and I'm super excited about what comes next."
This story originally appeared on Show Me Mizzou.