October 05, 2022
More than 20 local high school students last month came to a camp on fluid dynamics and left with a greater appreciation of everything Mizzou Engineering has to offer.
"It was so much more than they expected according to the post-event surveys we collected," said Sheng Wang, an assistant research professor in the Department of Mechanical and Aerospace Engineering, who organized the event.
Sponsored by the National Science Foundation, and with the help from Mizzou Family Impact Center, the Fluid Dynamics Learning Opportunities Camp aimed to inspire students at a young age to discover an interest in engineering, science and technology, said Professor Chung-Lung "C.L." Chen.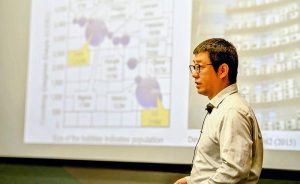 "Hopefully we can help them identify their interests and think about college, either here or somewhere else," he said. "We have many good students in Columbia, and we would love it if they came here and worked with us."
Chen's research students guided camp participants through several activities, including a project in the 3D Printing Research and Experiences Lab. Specifically, students edited pre-existing models of wings that were then 3D printed.
"We used the models to see how air and smoke flow around wings," said Nathaniel Grindstaff, a senior mechanical engineering major. "Students were able to see concepts come to life around models they worked on just hours before, which made it really interesting."
Students also had the opportunity to see Spot, the robot dog from Boston Dynamics, and the formula one race car up close, said Robin Pham, a PhD student who helped lead the activities.
And while they learned more about the specifics of heat transfer and fluid dynamics, Elle Yan says she hopes they gained a better understanding of the practical applications.
"So many things we use and see are based on fluid and thermal principles," said Yan, a post-doctoral fellow. "I hope they left with a sense of how these concepts apply to our daily lives."
Want to see engineering in action? Schedule a campus visit today!