November 25, 2022
Funded by the National Science Foundation, Civil and Environmental (CEE) STEM Scholars are part of a national program to meet the need for well-trained civil engineers. These Scholars, both undergraduate and graduate students, form a diverse group seeking to successfully graduate with an ABET-accredited civil engineering degree.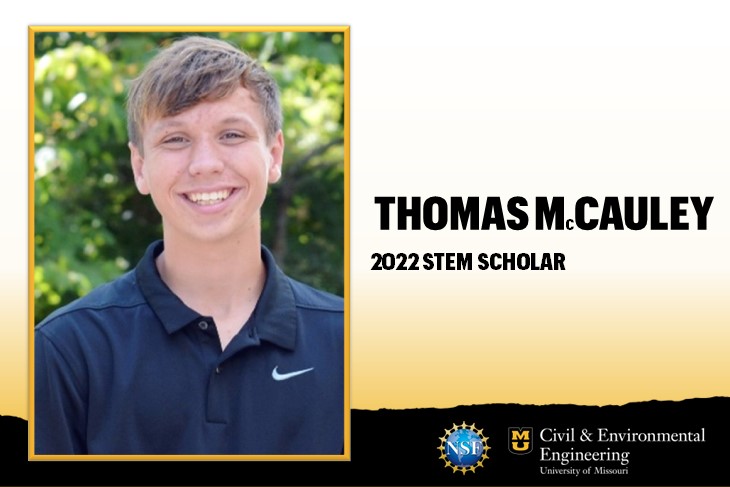 Thomas McCauley is from Wardsville, Missoui. He was heavily involved in sports during high school, as well as Student Council, National Honor Society and other extracurricular activities. He plans to continue being involved in sports and community service in college.
We asked him a few questions about being a STEM Scholar at Mizzou.
How did you first get introduced to engineering?
I was introduced to engineering by a science teacher at my high school that taught engineering physics.
Why are you interested in pursuing engineering?
I am interested in pursuing civil engineering because it is the perfect balance of using math, spending time outside and working with a team. I also look forward to working on large projects and seeing them transform from an idea to functioning works of infrastructure.
Why did you choose Mizzou Engineering?
I chose Mizzou Engineering because going to the University of Missouri has always been a dream of mine. Both my parents attended Mizzou and brought me on many campus visits for home football and basketball games. Ever since I first stepped foot on campus, I knew I wanted to be a Tiger.
How has being a STEM Scholar helped you at Mizzou Engineering?
Being a STEM Scholar has given me the opportunity to meet many amazing professors much earlier into my education than if I was not in the STEM Scholar program. I also may have never met some of my classmates that have become my good friends.
What would you tell others to encourage them to consider applying for the STEM Scholarship?
I would tell others about the amazing network of professors and classmates, in the same career path, that the STEM Scholars program forms for you, and all of the amazing benefits and opportunities involved in the program.
What's been your best experience at Mizzou Engineering to date?
My best experience with Mizzou Engineering so far was the Career Fair. I was given the opportunity to talk to numerous engineering businesses from all across the country and gained valuable networking experience in a professional setting.
Why would you recommend Mizzou Engineering to others?
I would recommend Mizzou engineering to others because of the great educational opportunities, but more importantly the amazing people in the program that want to see you succeed. 
Thanks for sharing, Thomas!
Learn more about the STEM Scholars Program.