October 28, 2022
Funded by the National Science Foundation, Civil and Environmental (CEE) STEM Scholars are part of a national program to meet the need for well-trained civil engineers. These Scholars, both undergraduate and graduate students, form a diverse group seeking to successfully graduate with an ABET-accredited civil engineering degree.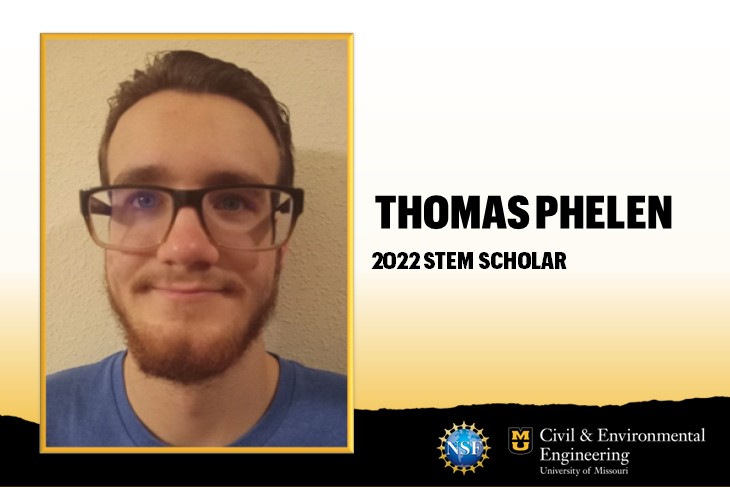 Thomas Phelen, a 2022 STEM Scholar inductee, was born and raised in Missouri. He enjoys building things, such as furniture, and thrives studying math and science. In high school, he was involved with Future Business Leaders of America.
We asked Phelen about his journey to becoming a STEM Scholar at Mizzou.
How did you first get introduced to engineering?
I heard about my grandfather building stuff and about my uncle who is an engineer.
Why are you interested in pursuing engineering?
It is a cool field of study that allows for a wide range of knowledge and lets me help people.
Why did you choose Mizzou Engineering?
I chose Mizzou because I had the opportunity to talk with Dr. John Bowders and Dr. Brent Rosenblad. They both convinced me to attend Mizzou.
How has being an STEM Scholar helped you at Mizzou Engineering?
It has helped me with financial stability and lets me focus on my schoolwork.
What would you tell others to encourage them to consider applying for the STEM Scholarship?
I would tell others that it is great financially to get the scholarship and that it is a great way to meet people.
What's been your best experience at Mizzou Engineering to date?
I would have to say my current best moment at Mizzou is still the talk that I had with Dr. Bowders and Dr. Rosenblad. The answers they had for my questions were amazing and inspired me to come to Mizzou and pursue Civil Engineering.
Why would you recommend Mizzou Engineering to others?
I would recommend Mizzou to others because it is a cool place that I feel allows for effective learning.
Thanks for sharing, Thomas!
Learn more about the STEM Scholars Program.