November 28, 2022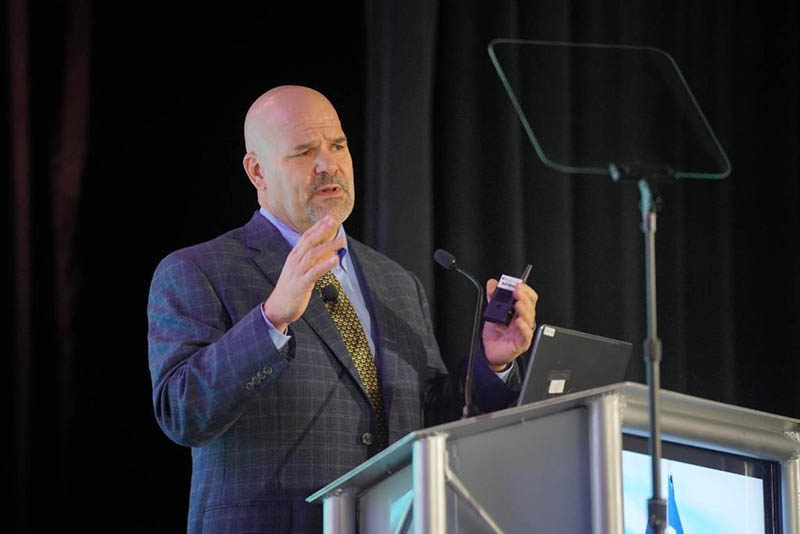 Glenn Washer, professor of civil and environmental engineering, delivered the Lester/Mehl Honor Lecture at the American Society for Nondestructive Testing (ASNT) conference in Memphis, Tennessee, earlier this month.
The lecture recognizes individuals who have made outstanding contributions to the science of nondestructive testing. It was established in honor of Dr. Horace H. Lester and Robert F. Mehl.
"It was a great honor to receive it," Washer said. "Past recipients have been mentors of mine or people I have admired, so to join that group is a privilege."
Washer has been working on nondestructive technology to test bridges for 30 years. In his lecture, he discussed developments and challenges of testing, including addressing updates to regulations that have not kept up with advancements.
"One current issue in the highway community is the way specs have been developed to inspect the quality of welds and bridges that are being fabricated or are in service," he said. "How do we improve them to address emerging technologies and materials that have changed since specs were produced in the 1960s? We've had new technology implemented in certain ways that need to be reconciled with traditional ways."
Washer's research is primarily focused on ultrasonic technologies, including using ultrasonic methods to look for cracks and defects. Similar to medical ultrasounds, these methods allow researchers to peer inside material by assessing acoustic differences within the material.
While that method is usually implemented for quality control when bridges are being fabricated, it can be also be used for in-service bridges.
"It's not that common to use ultrasonic technology for in-service bridges, but there is a need for these types of inspections on certain bridge types that were constructed in the 1950s and 1960s," he said.
The lecture was a good opportunity to talk to ASNT members and draw their attention to those types of issues within the bridge community, he added.
Prior to joining Mizzou Engineering, Washer was director of the Federal Highway Administration's Nondestructive Evaluation program. At Mizzou, he is James C. Dowell Fellow and a Fellow of ASNT.
Study alongside leaders in the field. Apply to Mizzou Engineering today!