July 12, 2023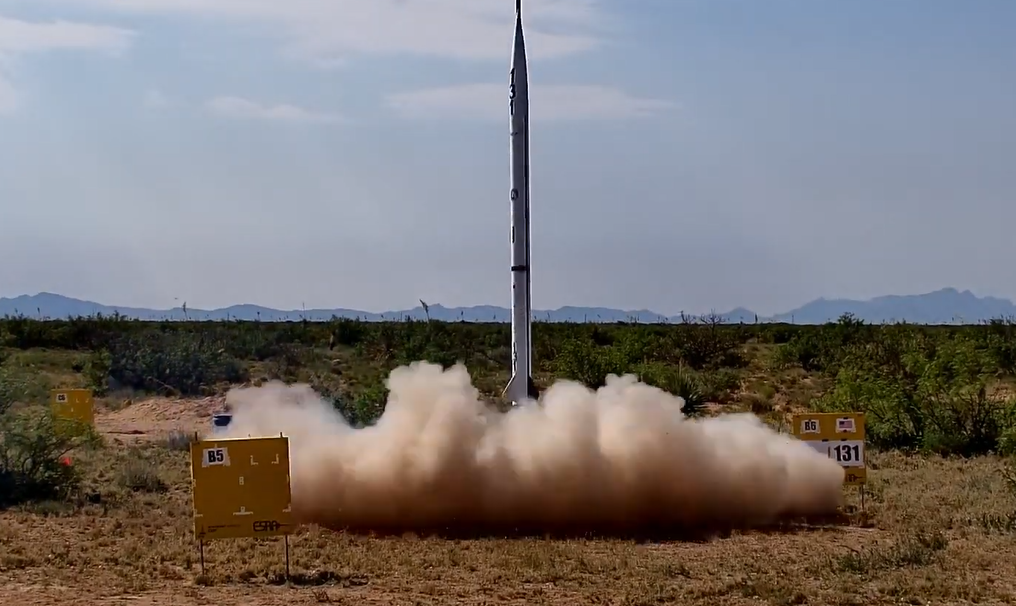 Mizzou Space Program (MSP) made history this year at the Spaceport America Cup when it launched Mizzou's first rocket flown with a student researched and developed (SRAD) motor.
"We earned fourth place in the 10,000 feet SRAD category and 22nd overall," said Abigail Penfield, 2022-23 Mizzou Space Program President. "We also reached an apogee of 10,058 feet, had the 5th highest flight performance score overall and improved from last year in all major score categories."
Competing in the 10,000 feet SRAD category meant the team targeted an altitude of 10,000 feet above ground level for their rocket's flight, which they nearly precisely hit.
"We are very happy with our results, especially considering that it was our first year in this category," said Ryan Milewski, 2023-24 Mizzou Space Program President.
Teams not in the SRAD category build rockets around a commercially available motor. Mizzou Space Program has spent the last four years developing the motor they finally used in competition in June.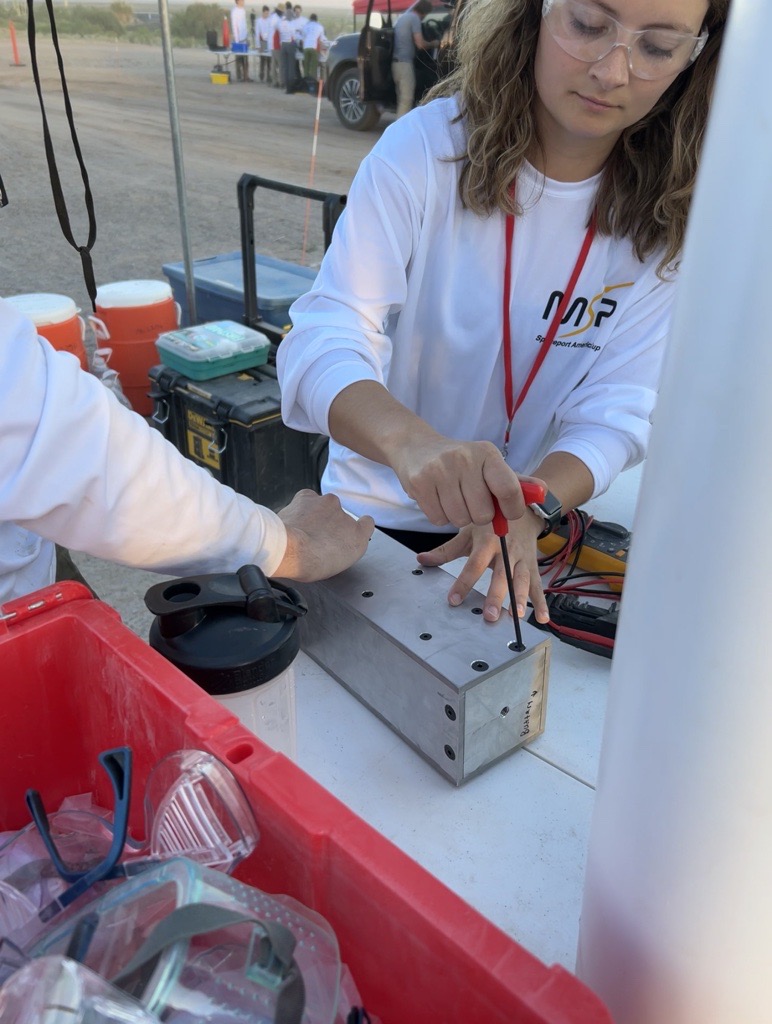 "I definitely had enough faith in the motor that it wouldn't blow up, but we never had a chance to do a flight test," Penfield said. "I was so happy and relieved that we were able to finally get off the launch pad on the third day of competition and see the culmination of all our hard work. I was just thinking, 'About time!'"
Milewski said the experience of seeing the rocket launch was awe-inspiring.
"I knew the amount of work that went into getting to this point, much of it done by members who have now graduated and were cheering us on through the livestream," he said. "The feeling of seeing something that we have worked on for the entire time I have been in the club actually come to fulfillment was amazing."
The Spaceport America Cup is held annually in New Mexico, and this year 158 teams, including 78 international teams, competed. The competition is a ten-month experience, with teams applying in the fall, submitting progress reports throughout the school year and a technical report and virtual safety review in May. At the June competition, teams present to judges and launch their rockets.
This year, the team also had time to explore when they weren't busy preparing for liftoff.
"We were able to travel to White Sands National Park and go sledding down the sand dunes which was super cool," Milewski said. "Also, on our final night in New Mexico, the team made kebabs together after the awards ceremony which was really fun."
The next step for MSP is to begin preparing for competition next year. While they aren't sure which category they'll be competing in yet, they know they want to improve on this year's rocket design. Penfield said some of their ideas include developing a "spicier" version of their rocket fuel to make the rocket have a higher initial and average thrust and attempting to compete in a 30,000 feet category.
Anyone, from any major or experience level is invited to join MSP in the upcoming year.
"While we are an aerospace-focused organization, we need people with a variety of skill sets," Milewski said. "For example, I am a Computer Science student, and we also have many other non-Mechanical Engineering students in the club, including some not even in the College of Engineering."
Both Penfield and Milewski say the people are their favorite part of Mizzou Space Program, both at the College and beyond.
"We definitely have a family atmosphere," Penfield said. "I also love that we're still small enough that everyone can get involved in anything that they want to."
Milewski added, "Another thing that has been awesome about being involved in MSP is the connections that I have made throughout the aerospace industry. This experience definitely had a role in my getting an internship in the aerospace industry."
Students can stay up-to-date with the team's projects on Instagram, and can meet with Mizzou Space Program at the New Student BBQ on at 5 p.m. on Thursday, August 24, at Shamrock Plaza, located just North of Lafferre Hall.
Earn an engineering degree while building your own rocket. Choose Mizzou Engineering!