June 26, 2023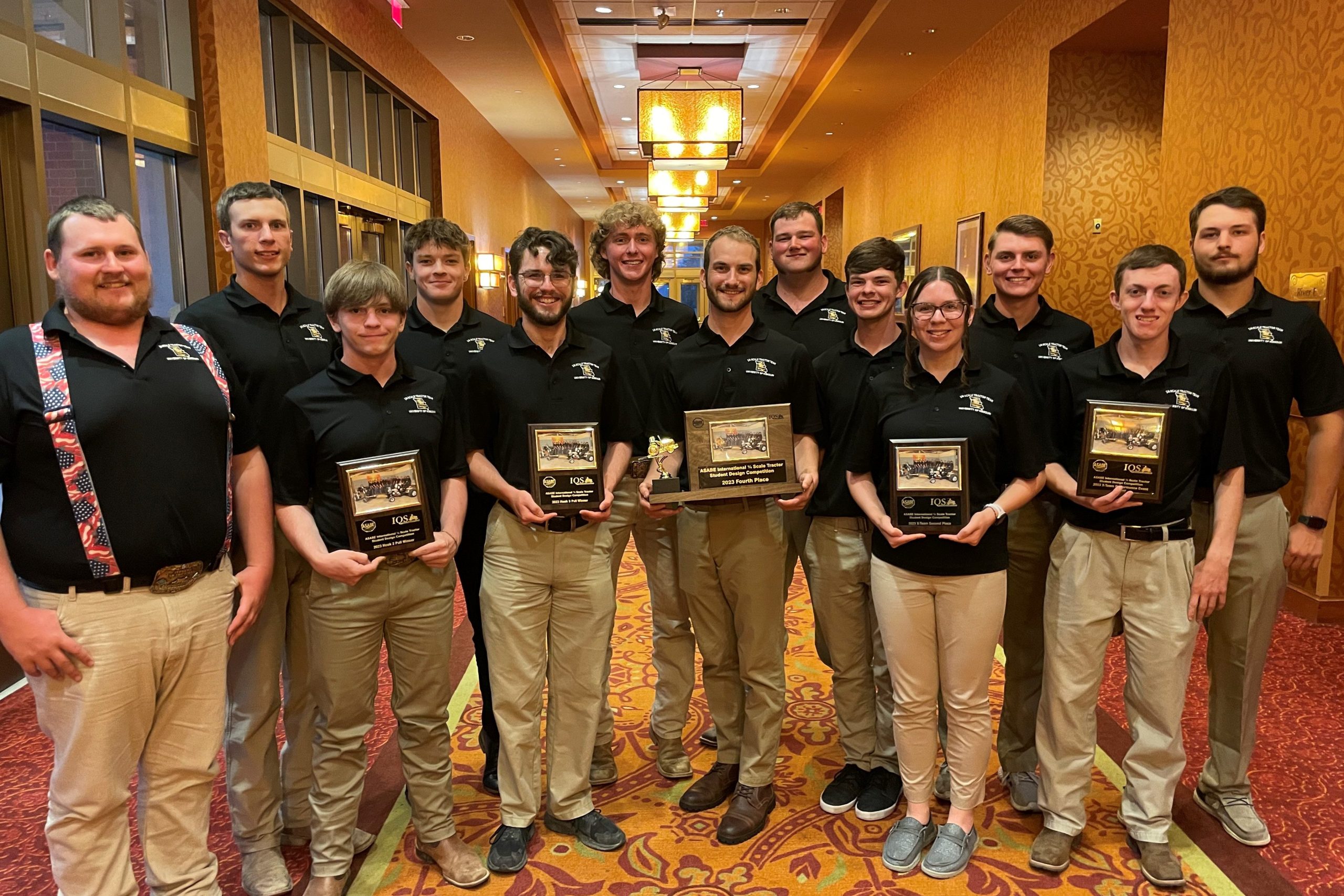 After months of planning, design and fabrication, students on the Torq'N Tigers Quarter Scale Tractor Pulling Team earned honors at the American Society of Agricultural and Biological Engineers (ASABE) International Quarter Scale Student Design Competition this month.
The competition is designed for each school to bring a team of experienced members and a team with newer members to compete in separate classes. The experienced members make up an "A-Team," that has to build a completely new tractor each year. The less experienced members comprise the "X-Team," which must redesign at least 30% of the previous year's design. Both Mizzou teams earned spots within the top five overall.
"The competition went really well," said Jonathan Ebbesmeyer, team president and mechanical engineering student. "With our members and our knowledge, I believe we have the capabilities to win the entire contest next year."
The A-Team won both heavy pulling events in addition to earning fifth place in the overall competition. The X-Team placed second overall and won the pulling performance competition event.
"This year, I had the opportunity to drive one of the pulls for X-Team," said Will Hanson, team treasurer and plant science student. "Tiger 17X performed very well, and it was great to see the team's hard work come together. My pull was the second farthest of the night, only topped by Jonathan's."
The teams are judged on design, technical inspections, maneuverability, durability and the tractor pulls. The competition also requires students to create a design report and marketing presentation. Ebbesmeyer and Hanson agree that the pulls are the most fun part of competing.
"Last year, we did not perform very well in our pulls due to little minor issues," Ebbesmeyer said. "It was an amazing to see our hard work from this year pay off and show people what we are capable of."
The Torq'N Tigers team operates jointly within the College of Engineering and the College of Agriculture, Food and Natural Resources (CAFNR), and is currently comprised of students from both colleges. They work together to build their own hands-on experience in a field they're passionate about, and welcome students from any major or experience level to join them.
Ebbesmeyer joined when he was a freshman after meeting the team at the Engineering New Student BBQ and helping them move inside after it started raining.
"When I first got to Mizzou, I did not have any plans and was kind of skeptical of clubs," he said. "Coming from a high school class of 40 to a class of thousands was a really big change for me. So I went to the Engineering BBQ, from there I started talking to the members and really liked the members as well as the overall purpose of the club. I did not have much experience, and I was unsure what benefit I could present to the club, but everyone was very helpful and explained all the different parts of the tractor for me. Since I joined TNT I have really enjoyed the relationships and friends I have made through the team."
For Hanson, the relationship-building on the team has been a key piece of his experience.
"My favorite part about being involved in Torq'N Tigers is the friends I have made and the practical experience I have gained as a part of the team," Hanson said. "And we are always looking for new members. Anyone is welcome to join, regardless of their major or level of experience. There are a wide range of responsibilities in the club and there is an opportunity for everyone to contribute to the team's success."
Students can meet and join the team at this Fall's Engineering New Student BBQ at 5 p.m. on Thursday, August 24, at Shamrock Plaza, as well as the CAFNR Fall Roundup. Shamrock Plaza is located just North of Lafferre Hall, adjacent to The Columns.
Earn an engineering degree while learning how to build your own tractor. Choose Mizzou Engineering!