October 10, 2023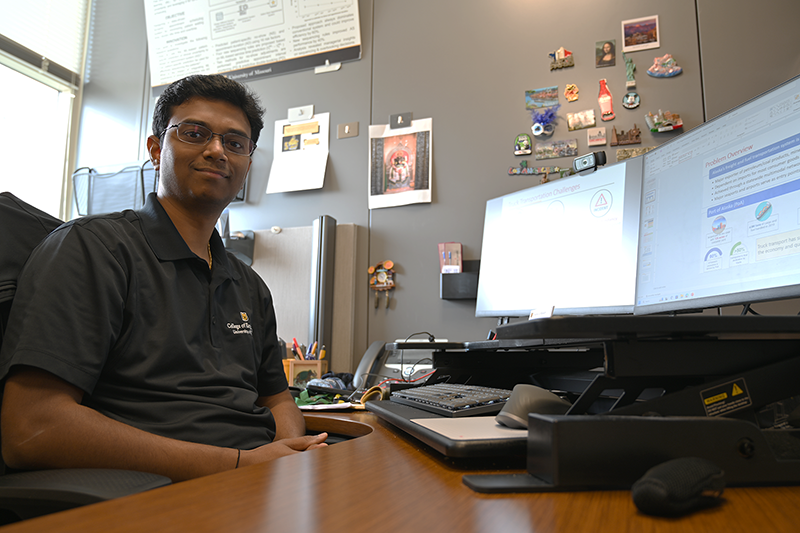 A Mizzou Engineering team is working with the Port of Alaska and its stakeholders to assess freight and fuel truck operations and develop an interactive digital communication portal for improving visibility into Port operations.
Sharan Srinivas, assistant professor of industrial and systems engineering, received funding from the Alaska Department of Transportation (AKDOT) for the two-pronged project.
The Port of Alaska leases space for shipping carriers that bring goods and products to 90 percent of the state's population. On average, 700 to 1,000 trucks come into the port daily—twice a week, it's closer to 1,300 trucks.
And right now, all of that traffic is using the same road to enter and exit the Port.
"That's a lot of trucks using the exact same road," Srinivas said. "If the single entry/exit path were to be disrupted, then it would greatly affect the trucks' ability to access the port, which, in turn, could significantly delay people's access to essential products. So, efficient port operation is important for the state's economy and the quality of life of its residents."
Complicating the situation are neighboring operations. The Port is surrounded by an Army base, railroads, oil companies and residential neighborhoods, making it tricky to open alternative routes. Additionally, the topography around the Port includes slopes that would be inaccessible during icy conditions.
Srinivas and his team are now assessing what would happen in case of an emergency that would disrupt the entry/exit checkpoint and result in backlogs and gridlock.
"We're using simulation models to recreate truck movements and port operations and assessing the impact of various alternatives," he said. "It may be possible to redistribute traffic without overburdening a specific route, and there could be ways to schedule trucks so routes are not crowded at all times."
He's hoping to demonstrate that with minimal scheduling and route changes, trucking companies could operate more efficiently as they pick up goods to distribute to retailers.
"For instance, it currently takes around 25 minutes to enter, pick up a shipment container and leave the port," Srinivas said. "One of our goals is to explore ways to reduce that turnaround time. We'll be able to model different situations and show how those scenarios impact different entities."
The second part of the project involves the development of a portal that would allow Port officials to better communicate with different stakeholders, including the trucking companies. The portal would provide real-time information, such as traffic and road conditions, as well as provide a way to report situations.
"Right now, trucking companies have limited visibility into Port-related disruptions," Srinivas said. "For example, if an infrastructure such as a crane suffers a mechanical breakdown, then it would slow the offloading of containers from the ships. If the trucking companies are not aware of such incidents, then they will continue to send more trucks to the port to pick up the containers, which, in turn, could lead to unnecessary congestion. The current system does not have the capability to quickly disseminate such information to key stakeholders. Therefore, we are focusing on developing a user-friendly tool that provides real-time visibility into Port operations and incidents."
Srinivas and his team traveled to Anchorage last month to visit the Port and meet with various stakeholders. In addition to port authorities and the Alaska Department of Transportation, Srinivas is working with the Trucking Association and trucking companies. While the project is specific to Alaska, researchers are hoping these models can be adopted elsewhere.
"The goal is to develop a technology that is scalable nationally to other ports," Srinivas said. "The idea is that you create a general framework that could then be customized with local information."
Srinivas is collaborating on the project with Suchi Rajendran, assistant professor of industrial and systems engineering, Prasad Calyam, Greg L. Gilliom Professor of Cyber Security and students from industrial and systems engineering, data informatics, electrical engineering and computer science.
Work with innovative researchers solving real-world problems. Apply now!