June 12, 2023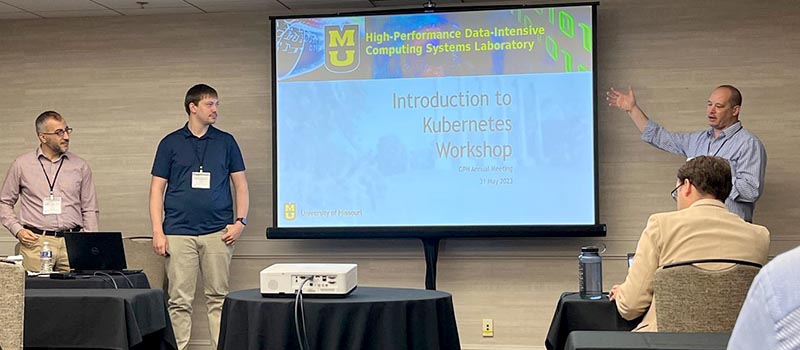 Mizzou Engineers are sharing their expertise around the National Research Platform, also known as Nautilus, with academic peers and leaders across the state this year. Nautilus is a massively scaled hypercluster with thousands of compute nodes located all across the U.S. and powered by Kubernetes, an open source software platform.
Assistant Professor Grant Scott, Assistant Research Professor Alex Hurt and Anes Ouadou, a Ph.D. student in electrical engineering and computer science, have presented workshops around the platform at the recent Great Plains Network (GPN) Annual Meeting in Kansas City and at a Missouri Research and Education Network (MOREnet) event earlier this year.
Hurt and Ouadou are members of Scott's MU High-Performance Data-Intensive Computing Systems Lab.
The main objective of the talks is to encourage others with mass computing needs to take advantage of Nautilus and Kubernetes.
"Kubernetes can save time, trouble and resources," Ouadou said. "One of the reasons to get people to use it is you don't have to commit financially or otherwise. It's open source through the National Science Foundation and provides a stable environment."
Kubernetes is essentially an orchestration system built to containerize applications, Hurt said. You can think of containers as miniature virtual machine software packages because they encapsulate code, libraries and other necessary components.
At the GPN meeting, Hurt and Ouadou provided an introduction to Kubernetes for regional academic cyberinfrastructure professionals and a more in-depth workshop around migrating AI/ML research workloads onto Nautilus to support research requiring deep learning.
Nautilus is a nationally distributed cluster with servers across the country connected to a vast network that runs special programs for handing big data. Earlier this year, under Scott's leadership, Mizzou added four latest generation AI/ML nodes to Nautilus to further democratize large-scale computing capabilities.
"A big driving point of Nautilus is providing this type of computing power to smaller schools and institutes that don't have the financial resources to purchase high-powered computing system," Hurt said. "People around the country can use these nodes."
Hurt has been working on computer vision and building artificial intelligence models in Dr. Scott's lab for five years. Kubernetes has helped overcome some of the technical barriers of their research, he said.
Hurt and Ouadou have presented similar workshops at Mizzou, and around 50 students and faculty on campus are actively using Nautilus to advance their research.
The work is supported in part by CC* Team: Great Plains Regional CyberTeam with Scott serving as Principal Investigator (PI).
Similar efforts will continue under Scott's new project starting in July. He is PI of CC* Regional Computing: Great Plains Extended Network of GPUs for Interactive Experimenters (GP-ENGINE). This project will add another 11 high-powered AI/ML nodes, supporting up to 308 virtual GPUs.
Learn more about Scott's work here.