March 03, 2023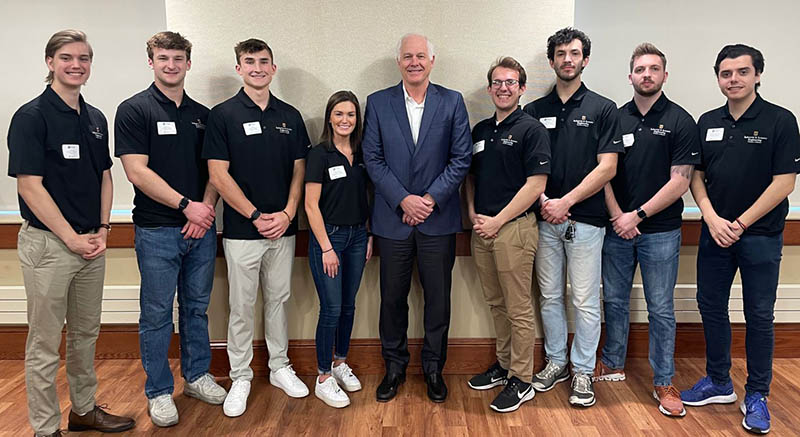 Industrial engineering students from around the region had the opportunity to showcase projects, network with peers and tour campus and local manufacturing plants at the 2023 Institute of Industrial and Systems Engineers (IISE) South Central Regional conference hosted at Mizzou.
"I hope that attendees took away all of the different ways that Industrial Engineering techniques can be used in the real world," said Reegan Spicer, conference chair and a member of Mizzou's IISE chapter. "I hope attendees formed new relationships and strengthened existing ones. Overall, I hope everyone had as much fun as I did while gaining knowledge that betters their futures."
One highlight of the three-day conference was a paper competition in which students presented research ranging from production processes to testing heat settings for thermal expansion valves used in heating and cooling equipment.
Mizzou Engineering's team, Michael Stroud, Joshua Freeman and Madeline Easley, came in third place after sharing their simulation model used to analyze the state of an operating rooms. The idea was to design and simulate the most ethical and effective model of a surgical floor based on literature and analysis.
"The paper competition was extremely competitive," Spicer said. "It was awesome to see all of the different research that people have been working on."
Sharan Srinivas, assistant professor and faculty advisor of MU IISE student chapter, said his favorite event was the business competition, during which teams came up with and presented ideas for new companies. Students had 90 minutes to not only propose a business but also develop a business plan, a marketing strategy, a pricing structure, and a competitor analysis.
"All five teams did a great job of coming up with creative ideas in a short time," Srinivas said. "I was pleasantly surprised at how the students used their industrial engineering skills to propose innovative businesses."
Keynote speakers at the IISE conference included ISE Hall of Fame members Mark Hense, BS IE '85, president and chief executive officer for TTG Inc.; Cynthia Bambini, BS IE '85, vice president, business development leader at CannonDesign; and V. Allan Samson, BS IE '92, senior vice president of marketing at T-Mobile.
"They provided valuable lessons that all of the attendees will keep with them as they finish their schooling and start their careers," Spicer said.
Srinivas praised Spicer and MU IISE student officers who worked for months to plan and execute the regional conference.
"Communication and teamwork were very important while planning this conference," Spicer said. "I would not have been able to plan and host this conference without the student committee heads and support from the Mizzou faculty. Communication between team members and the other schools was critical in making the conference successful."
Join an industrial engineering program and develop your leadership skills. Apply today.