May 24, 2023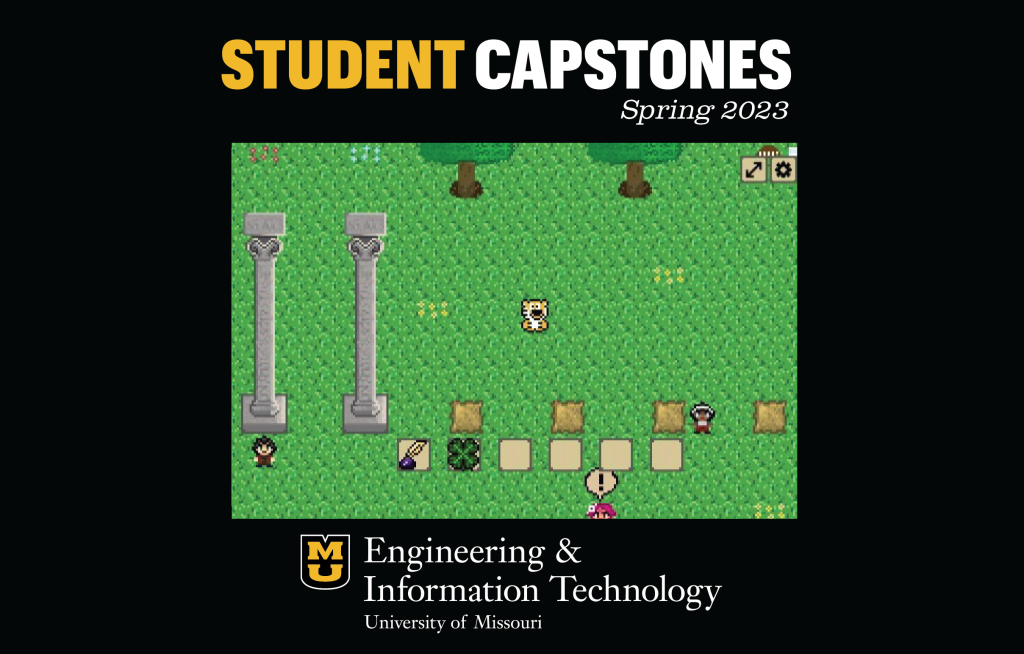 Information technology students at Mizzou this semester developed a single-player trivia game centered around Mizzou's historic columns.
In the game, "The Missing Columns," players look for the displaced icons by exploring buildings on campus and chatting with virtual students as they learn about the history of the University of Missouri. Once players answer trivia questions, they are rewarded with badges, and the columns reappear on the Francis Quadrangle. The game was made by Lauren Stumpf, Steven Wu, Sajid Rahiyan and Kurt Unger.
The project was one of many created by IT students in their capstone course, a class that wraps up students' degrees and prepares them for the life of an IT professional. Read on to hear from Stumpf, Wu and Unger about the creation of the game and their capstone experience.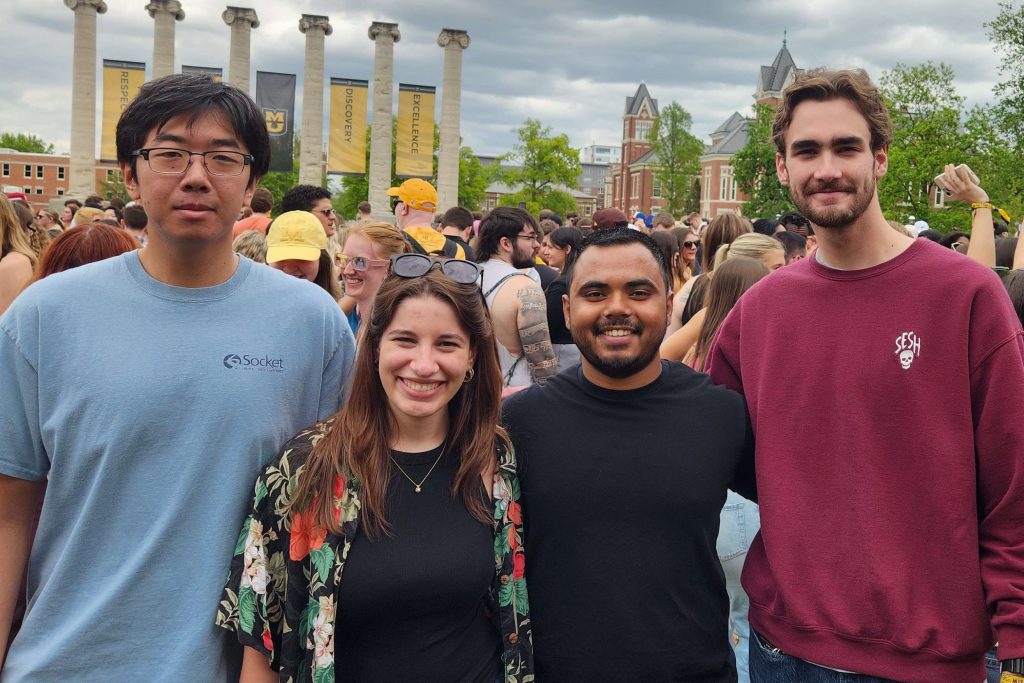 Where did the idea of the project come from?
Stumpf: The idea came from our collective interest as a group in nostalgic pixel games. A lot of us grew up with handheld consoles from the late 90s to early 2000s and really missed those kinds of games, since they're not produced anymore. We also felt that university life was overwhelming, so we wanted to help students navigate and learn about it in a factual manner.
Wu: The idea also came from us wanting to help incoming students who may feel overwhelmed about their new campus life, just like ourselves at one point. We wanted to achieve this in a fun and interactive way to capture the attention of our audience. Through weeks of planning and brainstorming we all arrived at the decision that an educational game would be the best medium to execute our idea in.
Did the project turn out how you hoped?
Stumpf: The project exceeded our expectations. I don't think any of us thought we would get this far. None of us personally created a game before, so we were unsure of our skills. But with a bit of research and skills we picked up along the way from classes, we were able to pull off something we are proud of.
What did you learn during the project?
Stumpf: I primary worked on the design/artwork and user testing side of the game, which was a fun avenue to work in. I learned how to create pixel artwork, how to apply design principles, how to promote/market a game and send out surveys to the Mizzou community to understand their thoughts and expectations for our game.
Unger: Personally, I learned a lot about game development and the intricacies that come about with it. Sometimes, you'll be working on one area of the game that has an unintended effect on another area of the game. Bugs are a lot more common than you would think and are very unpredictable.
Wu: While my main focus during development was on the programming side. I'd say the thing that stuck with the most is how important effective planning and communication is. It really sets up the overall tone for the project. I've also learned how challenging it is making pixel art, my designs are noticeably lacking compared to the others.
How did your Mizzou Engineering education prepare you for the capstone?
Unger: Mizzou Engineering prepared me for this project in a lot of ways. I had never done any sort of programming or software development before I ended up in the IT program. I think Mizzou helped me prepare a solid foundation for what we were able to create, through our curriculum of courses in programming, game development and media design.
Stumpf: In addition to all this, I'm grateful I got to work with such a fantastic group of individuals who have been passionate about this project since the week we pitched it to our class. Each of us had a very interesting story to tell about our experiences at Mizzou and we wanted to capture it in our game. We wanted to leave a mark on the place like it left a mark on us. My biggest take from all of this is that I am grateful I had the opportunity to create such an awesome project, and I'm thankful to be graduating from Mizzou with a newfound group of friends.
Thanks for sharing!
Learn more about the information technology program at Mizzou and apply today!