September 20, 2023
Jianlin "Jack" Cheng has been named a Curator's Distinguished Professor, the highest honor bestowed by the University of Missouri System, for his groundbreaking work around artificial intelligence (AI)-based protein structure prediction.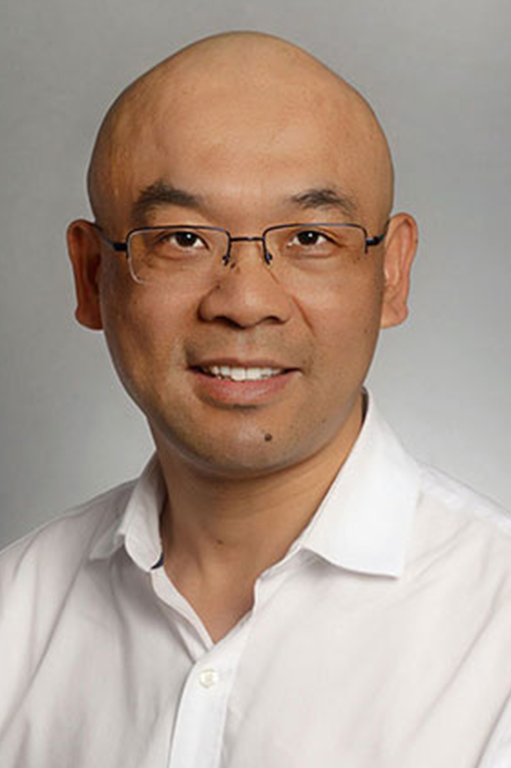 Cheng is the William and Nancy Thompson Distinguished Professor of Electrical Engineering and Computer Science and a faculty researcher at the Roy Blunt NextGen Precision Health building.
"I'm honored to be recognized with this distinction," Cheng said. "I've been fortunate to work with talented researchers, faculty and students at Mizzou over the past 16 years, and this award reflects that wonderful collaboration."
Cheng is an internationally recognized leader in predicting how strings of amino acids ultimately fold into three-dimensional (3D) structures, knowledge that is essential to the development of new drugs and vaccines.
At a world-wide competition in 2012, he was the first to demonstrate that a type of AI known as deep learning is the best method to predict protein structure. From 2006 to 2022, Cheng and his team have ranked consistently among the top protein predictors at the Critical Assessment of Techniques for Protein Structure Prediction (CASP) event, the only group to have achieved that record. This past year, the group ranked No. 1 in estimating the global fold accuracy of quaternary structures, accurately predicting the global quality of certain protein structures.
Over the years, his lab has developed a number of software tools to analyze protein structure and function that are widely used in the field. This past spring, he received funding from the National Science Foundation to develop new open source software that would predict not only how a string of amino acids will form into a structure but also the role it will carry out within a cell and the specific site of the protein that carries out the function.
"Dr. Cheng is an excellent representative of the University of Missouri, putting Mizzou on an international stage for work in protein prediction and bioinformatics," said Syed "Kamrul" Islam, chair and professor of electrical engineering and computer science. "He is truly deserving of the Curators' Distinguished Professorship."
This is the latest accolade recognizing Cheng's contributions to his field. In 2022, he was elected as a Fellow of the American Institute for Medical and Biological Engineering (AIMBE) and a Fellow of Asia-Pacific Artificial Intelligence Association (AAIA). In 2019, he was named one of the top 100 AI leaders in drug discovery and healthcare by Deep Knowledge Analytics. He is also a member of the American Association for the Advancement of Science (AAAS), the Institute for Electrical and Electronics Engineers (IEEE) and the Association for Computing Machinery (ACM).
Cheng was one of several Mizzou Engineering faculty members honored by the UM System Board of Curators at their Sept. 7 meeting. Zhiqiang Hu, the William Andrew Davidson Professor of Civil and Environmental Engineering, and Xiu-Feng "Henry" Wan, a professor of molecular microbiology and immunology with joint appointments, were also named Curators' Distinguished Professors, and Marjorie Skubic, Robert H. Buescher Faculty Fellow in EECS, was named a Curators' Distinguished Professor Emerita.
See a full list of MU's 2023 Curators' Distinguished Professors here.