July 31, 2023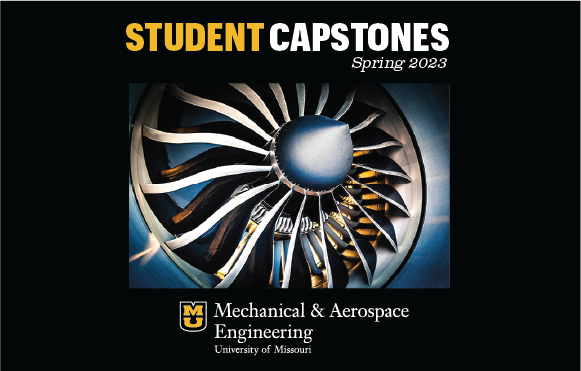 In the Department of Mechanical and Aerospace Engineering, seniors work together in a semester-long capstone project to design, manufacture and test products. The experience gives students the hands-on preparation to be successful after graduation.
In the spring semester, MAE capstone groups worked on a multitude of projects, including an electronics charger for outdoorspeople and a solar panel cleaner.
Flux Bolt
One of the capstone groups, Flux Bolt, realized that as electronics are becoming more integrated into outdoor activities, people need to be able to recharge their devices while in the wilderness. The group sought to design a standalone product that could be placed in a variety of heat sources, therefore they needed to figure out how to capture heat and apply Peltier modules.
They used an outer cast iron pot that would be exposed to heat and an inner chamber filled with water/ice to maintain temperature and pasted Peltier modules in between. Using a stovetop to test, it took just over seven hours to charge a cell phone with ice water and just under 16 hours with room temperature and cold water.
Team members included Nathaniel Grindstaff, Stephan Agee, Nghi Tran, Christoph Zuehlke and Joseph Fitz.
Heli Scrub
Another group, Heli Scrub, saw that most solar panel cleaning techniques were expensive and time consuming. However, keeping the panels clean is important to ensure optimum efficiency. The group created a cleaner that was autonomous, adaptable to various panel sizes and styles and cost-effective.
During the process, Heli Scrub learned that the PLA used in the 3D printing was too brittle and would melt and that machined aluminum had better overall strength.
Team members included Matt Aholt, Lane Atchison, Luke Dunbar, Joe Jenner, Mitchell Sedgwick and Kellen Senor.