September 06, 2023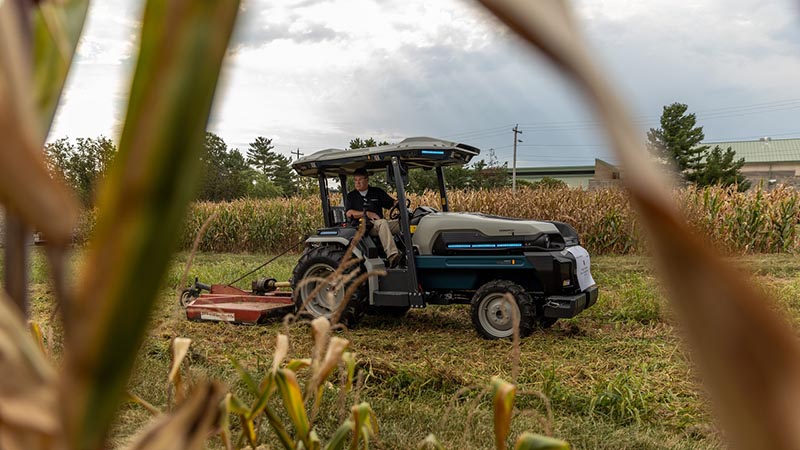 By Courtney Perrett | MU News Bureau
After more than a year of waiting, researchers at the University of Missouri welcome the arrival of one of the nation's first-of-its-kind electric, autonomous tractors. Known as the Monarch MK-V tractor, this revolutionary piece of technology will be studied for its ability to refine agricultural practices and support farmers with disabilities.
Researchers from the College of Agriculture, Food and Natural Resources and College of Engineering received the tractor earlier this month as part of a grant awarded by the Department of Agriculture's Equipment Grants Program. The new tractor, to be charged with a biofuels generator, will serve as an instrumental tool for both teaching and research in the agriculture and engineering programs.
"We want to investigate the next generation of technology," said Jianfeng Zhou, a professor in the College of Agriculture, Food and Natural Resources. "For both teaching and research purposes, it's helpful to adopt the next generation tools designed to improve the efficiency of agriculture, while reducing safety risks to farm laborers."
With the team at MU leading an interdisciplinary collaboration among research universities across the Midwest, including Lincoln University, Kansas State University and Penn State University, this tractor is emblematic of the future of agricultural innovation. As such, the researchers' goals are divided into research and teaching pursuits that include:
Exploring the autonomous function of the tractor, like making use of sensors and cameras to collect images and then storing the data from those images.
Understanding the tractor's ability to use artificial intelligence to enhance precision agriculture, such as determining when the sprayer system should be initialized or where to use herbicide or fertilizer.
Working with MU Extension's AgrAbility Program to understand how people with disabilities can benefit from this technology through use of its autonomous features.
Using the tractor as a teaching tool for classes focusing on developing sensors and control technology for agriculture.

"This is a tool to showcase to our farmers and stakeholders how new technologies can change traditional and conventional farming activities," Zhou said.
For Missouri's small-scale farms, this tractor's technological capability could be revolutionary, said Dan Downing, a water quality expert with MU Extension. It scores very well environmentally on air and water quality measurements, owing to a more sophisticated hydraulic system and engine, which reduces emissions that may interfere with farm conditions.
"This tractor will help us build an aerial-ground collaborative robotic system for ensuring efficient crop production," said Prasad Calyam, a professor in the Department of Electrical Engineering and Computer Science. "It will be critical in our testbed to help develop services that farmers can ultimately use to better coordinate ground robots and aerial drones to collect and process data. The processed data is helpful in mastering crop pest control and in-season fertilization. This tool will also help us train the next generation of students with cutting-edge technologies related to applications in autonomous collaborative robotic systems."
The tractor will be utilized jointly between the MU College of Agriculture, Food and Natural Resources and the MU College of Engineering. Co-principal investigators on this venture include Ming Xin, a professor of mechanical and aerospace engineering, Dan Downing, Teng Teeh Lim and Rob Myers.
"We are thrilled for Mizzou, CAFNR, Engineering and Extension to be leaders in the digital agriculture space across the country," said Christopher Daubert, CAFNR vice chancellor and dean. "'The Digital Age of Farming' is among our College's 'Grand Ideas'. While the technologies for agriculture continue to advance, CAFNR remains focused on the challenge to feed and clothe a healthy world."
Be part of a collaborative engineering program with interdisciplinary opportunities. Apply now!