October 11, 2023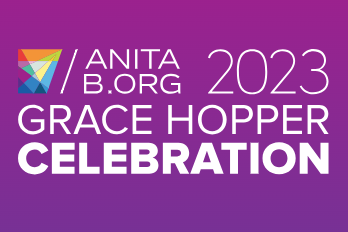 Eight Mizzou Engineering students travelled to Orlando, Florida, last month to attend the Grace Hopper Celebration, the largest gathering of women in tech in the world.
A recognition of women in STEM, the Grace Hopper Celebration encourages students to continue pursuing their goals. This year's theme was "The Way Forward" and attracted more than 30,000 attendees from across the globe to shine a spotlight on the research and careers of women in computing.
"It's the first time our students were able to attend Grace Hopper in-person after COVID," said Fang Wang, associate teaching professor and faculty advisor of Develop[HER], an organization for women in computing at the College. "I've seen first-hand how the Develop[HER] team did a tremendous amount of work with the help of Engineering staff to make it possible."
The celebration included panel discussions, meet and greets, networking sessions, lectures and a career fair for attendees to learn more about opportunities in the industry. Keynote speakers included Brenda Darden Wilkerson, an advocated for social justice who founded the Computer Science for All program; Janelle Monáe, a singer and actress who starred in the Oscar-nominated 2016 film Hidden Figures; and Aisha Bowe, a former NASA rocket scientist and founder/CEO of STEMBoard.
Wang stressed that the celebration is a great way for students to gain inspiration from other women in the field.
"I hope the students are inspired by the women in tech they met at the conference, increase their sense of belonging in the field and hopefully help and encourage other students when they return to campus," she said. "I've heard great experiences from the students who participated in this year's Grace Hopper Celebration. Hopefully, more students will be able to get the opportunity to participate in the future."
Earn a degree at a university with opportunities to attend conferences and gain experience outside the classroom. Choose Mizzou Engineering!