April 07, 2023
The University of Missouri Naval Reserve Officers Training Corps placed second overall at the 2023 NROTC Drill Meet, held last month at the University of Colorado. Additionally, Midshipmen 3/C Chase Fievet and Midshipmen 4/C Anna Hipple earned special honors, with Fievet named as event's high rifle shooter, and Hipple selected as the most outstanding drill unit leader.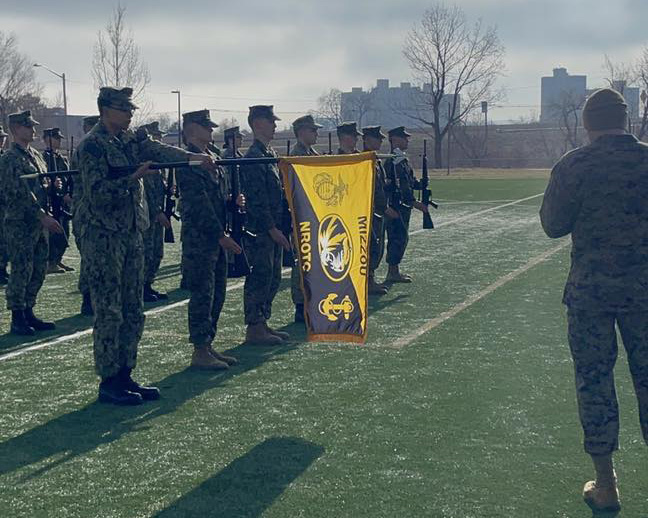 Mizzou's Naval ROTC Unit competed against 16 other ROTC units from around the country at the NROTC Drill Meet. Units participated in five competitions: nine-mile endurance race, shooting (pistol and rifle), knowledge, drill (squad and platoon) and Color Guard. Mizzou's Unit placed second based on results from all five areas.
The NROTC Dill Meet provides a challenging environment that encourages camaraderie in future Naval and Marine Corps officers, while reinforcing the virtues of discipline and tradition of the Marine Corps and Navy.
The University of Missouri Naval ROTC Unit, housed within the College of Engineering, develops Midshipmen morally, mentally and physically and to imbue them with the highest ideals of honor, courage and commitment. The goal is to commission officers who possess a technically professional background, awareness of human relations, a motivation towards a career and the potential for further development in mind and character needed to assume the highest responsibility of command, citizenship and government.