February 10, 2023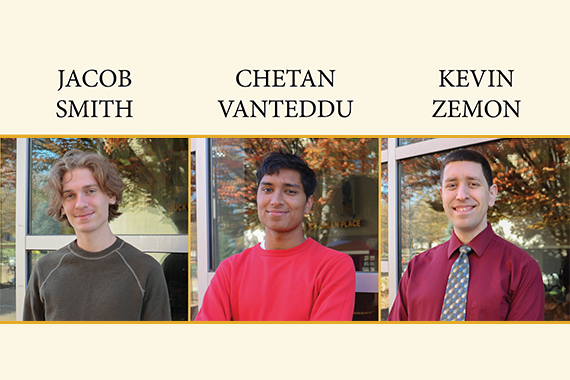 Three Mizzou Engineers have made it into the final round of the Entrepreneur Quest (EQ) Competition and are getting ready to compete for up to $15,000 from a prize pool to turn their ideas into viable businesses.
Mizzou Engineering students competing in the final pitch event on March 21 are:
Jacob Smith, a sophomore in mechanical engineering, who is creating a method of affordable manufacturing for custom small parts to be sold through his company, Cumulus;
Chetan Vanteddu, a sophomore computer science student, who is looking to launch Careline, a suite of tools and resources to enhance the data migration process for rural healthcare systems; and
Kevin Adam Zemon, a senior in computer science, who is developing an accessible, real-time strategy computer game that promotes teamwork between users through his business, Genius Gentlemen Gaming.
Since making it into the top 10, the three engineers have been honing their ideas, working with mentors and attending workshops to learn about logistics and strategies to start a business.
"We went over how to structure a business model during the first week of workshops," Vanteddu said. "That included learning about value propositions for our company, which really helped me specify what Careline does. In a future week I think we're going to set up an LLC for our businesses, which will be fun."
Smith agreed that the workshops have been helpful.
"The workshops are beneficial in the same way engineering courses are at Mizzou," he said. "I've always been interested in this stuff, so I've done my own research, but it's all random pieces of information that I gather. The workshops help focus the information and present the fundamentals in an organized way."
For Zemon, the workshops have helped him refine the specifics of his business venture.
"I'm doing things like thinking about how exactly the game should be monetized, how I can utilize data and what changes should be made to the game concept to better fit the demands of potential users," he said.
Participants also get the opportunity to work directly with expert entrepreneurs.
"Having time set aside with experts to learn more about business and new ways to look at problems, or even to determine what the problems are, has been the most enjoyable part of the competition for me," said Zemon.
Participating in EQ has also allowed students to apply their engineering education.
"Entrepreneur Quest is an opportunity for me to gain hands-on experience in engineering," Smith said. "And I think it's also a great way to showcase what I'm learning and what I'm ambitious about."
The EQ competition and engineering classes both teach students to never give up, even when it gets difficult, Vanteddu said.
"Classes can be hard, but once it clicks it's awesome," he said.
Although the Mizzou Engineers will be up against one another and other students at the final pitch, Smith stressed that he's enjoyed meeting and learning alongside fellow participants.
"My favorite part about the program is that it's been very friendly," he said. "There still is the stress of pitching a business and the competition, but there's no additional stress beyond that. Everyone is there to help you, so it's been a positive experience. Getting to know people with similar ambitions is pretty fun."
Want to earn your engineering degree from a university that provides opportunities to turn your side hustle into a business? Choose Mizzou Engineering!