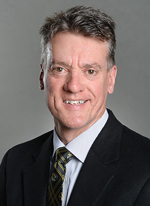 Bill Buttlar
Glen Barton Chair in Flexible Pavement Technology, P.E.
E2509C Lafferre Hall
Phone: 573-884-9328
Email: buttlarw@missouri.edu
Civil and Environmental Engineering
Biography
Bill Buttlar is the Glen Barton Chair in Flexible Pavements in the Department of Civil and Environmental Engineering at the University of Missouri, where he oversees the Mizzou Asphalt Pavement and Innovation Lab (MAPIL). He is the Founding Director of the Missouri Center for Transportation Innovation (MCTI), a powerful network of partners including the four UM System campuses, the Missouri Department of Transportation and the Federal Highway Administration. He has more than 300 publications in the area of asphalt materials and pavements and more than 100 invited presentations and keynote lectures. He is leading several regional and national studies on sustainable and resilient transportation infrastructure and is one of the founding organizers of the Data Science in Pavement Symposium series in collaboration with the FHWA Turner-Fairbank Research Lab. Buttlar is the editor-in-chief of the International Journal of Road Materials and Pavement Design and has served twice on the Board of Directors of the Association of Asphalt Paving Technologists (AAPT). His recent work in the incorporation of ground tire rubber and recycled, post-consumer recycled plastic in asphalt pavement surfaces was featured in a demonstration project on Stadium Blvd in Columbia, Missouri, in 2021, which has led to a number of recent keynote presentations and media reports.
Education
PhD from Pennsylvania State University
MS from Pennsylvania State University
BS from Pennsylvania State University, with honors
Technical Focus
Hyperloop infrastructure design and health monitoring