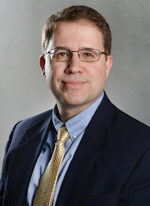 Brent L. Rosenblad
Associate Professor, P.E.
E2509 Lafferre Hall
Phone: 573-884-3736
Email: rosenbladb@missouri.edu
Civil and Environmental Engineering
Biography
Brent L. Rosenblad is an associate professor in the Department of Civil and Environmental Engineering at the University of Missouri. He is chair of the American Society of Civil Engineers Geophysical Engineering Committee, member and past chair of the Missouri Seismic Safety Commission, and a member of the Transportation Research Board subcommittee on geophysics. His research focus is primarily on the application of geophysical and remote sensing methods for geotechnical and earthquake engineering problems. His research expertise and experience include: the use of seismic surface wave methods for geotechnical applications, earthquake site characterization of critical facilities, foundation design and condition assessment, remote sensing for landslide and rockfall hazards, and geotechnical aspects of pavement performance. He is a registered professional engineer in Missouri.
Education
PhD from the University of Texas at Austin
MS from the University of Texas at Austin
BS from the University of Illinois
Technical Focus
Geotechnical earthquake engineering