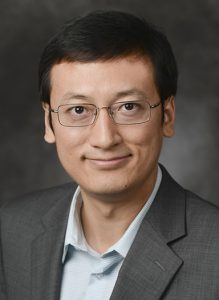 Feng "Frank" Xiao
Associate Professor, P.E.
C2647 Lafferre Hall
Phone: 573.882.6408
Email: feng.xiao@missouri.edu
Civil and Environmental Engineering
Biography
Feng "Frank" Xiao is an associate professor in the Department of Civil and Environmental Engineering at the University of Missouri College of Engineering. He is an editor of the Journal of Hazardous Materials and an associate editor of the ASCE Journal of Environmental Engineering. He received the USEPA STAR Early Career Award (~$500,000) in 2019, the National Science Foundation CAREER Award ($500,000) in 2021, and several other grants from the Department of Defense and USGS.
His research focuses on water and soil quality engineering, including disinfection byproducts and black carbon. Currently, he is leading an interdisciplinary team with diverse expertise to address open questions in the following research areas:
(i) the fate and transport of per- and polyfluoroalkyl substances (PFAS) in aquatic and soil environments;
(ii) new and cost-effective water treatment and soil remediation technologies; and
(iii) new analytical tools and non-target identification by high-resolution mass spectrometry.
Education
PhD in civil engineering from the University of Minnesota
MS in municipal engineering from the Harbin Institute of Technology
BS in water supply and drainage engineering from the Harbin Institute of Technology
Technical Focus
Per- and polyfluoroalkyl substances (PFAS)
Website