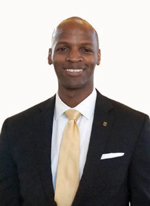 Kristofferson Culmer
Assistant Professional Practice Professor, Director of Autonomous Systems Laboratory, IDE Fellow
E2437K Lafferre Hall
Email: culmerk@missouri.edu
Engineering and Information Technology
Biography
Kristofferson Culmer is an assistant professor of professional practice for the IT Program and director of the Autonomous Systems Lab. Culmer teaches courses in software engineering such as programming languages and paradigms, database management systems and software engineering, and machine learning & data analytics. He also assists teaching IT 1040 (Problem Solving and Programming).
Culmer was born and raised in the Commonwealth of the Bahamas and completed his undergraduate studies at Central Methodist University in Fayette, Missouri, before coming to Mizzou for his graduate studies in computer science.
Culmer is an advocate for higher education with a passion for service and has also served the College of Engineering and the university in a number of ways. He has previously served as a research mentor for the National Science Foundation (NSF) Research Experience for Undergraduates (REU) and also as a teaching lead for the STEM Cubs program, a STEM education outreach program for K-6 students in the local community. Culmer has also been involved in the Graduate Scholars of Excellence (GSE) program where he has served as a mentor for undergraduate students from underrepresented and underserved communities.
Education
MS (computer science) from the University of Missouri
BS (computer science) from Central Methodist University
BS (business) from Central Methodist University
Technical Focus